Log In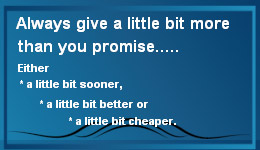 CAN Test Box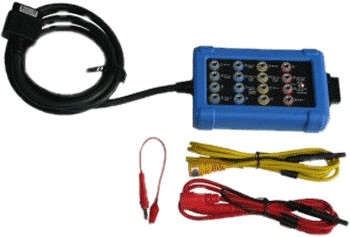 Continuing with our mission to make vehicle diagnostics easier and faster…the new CAN Test Box gives you easy access to the 16 pins of the diagnostic connector that is fitted to all modern vehicles. Depending on the configuration of the vehicle, this may allow you to check power, ground and CAN Bus signal quality. With the test leads supplied you can connect your PicoScope lab scope to the CAN Test Box to monitor signals such as the CAN High and Low. More.....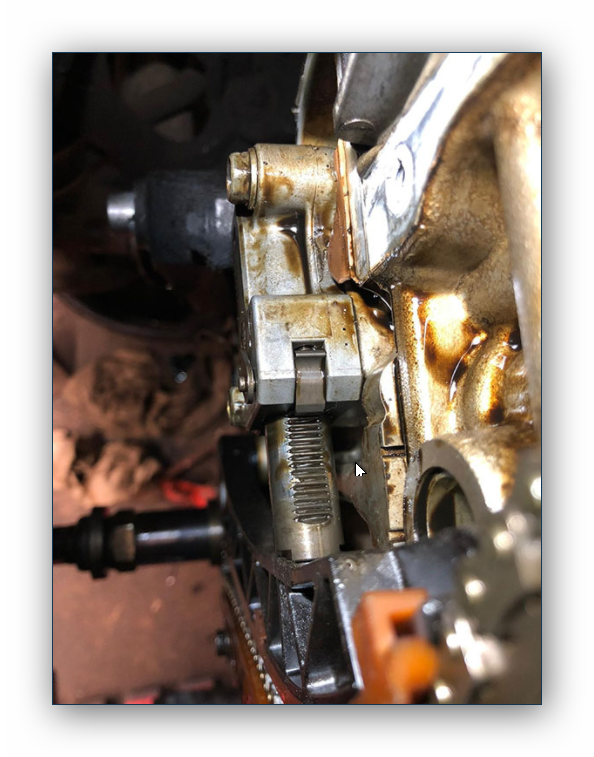 We have just posted a few new Automotive Tutorials and Case studies Here is the latest:
Honda Rattle
Credit Cards Accepted
Aurora Probability in Northern Canada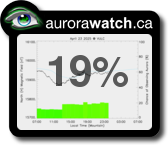 North America Aurora Map from
NOAA Space Weather Prediction Center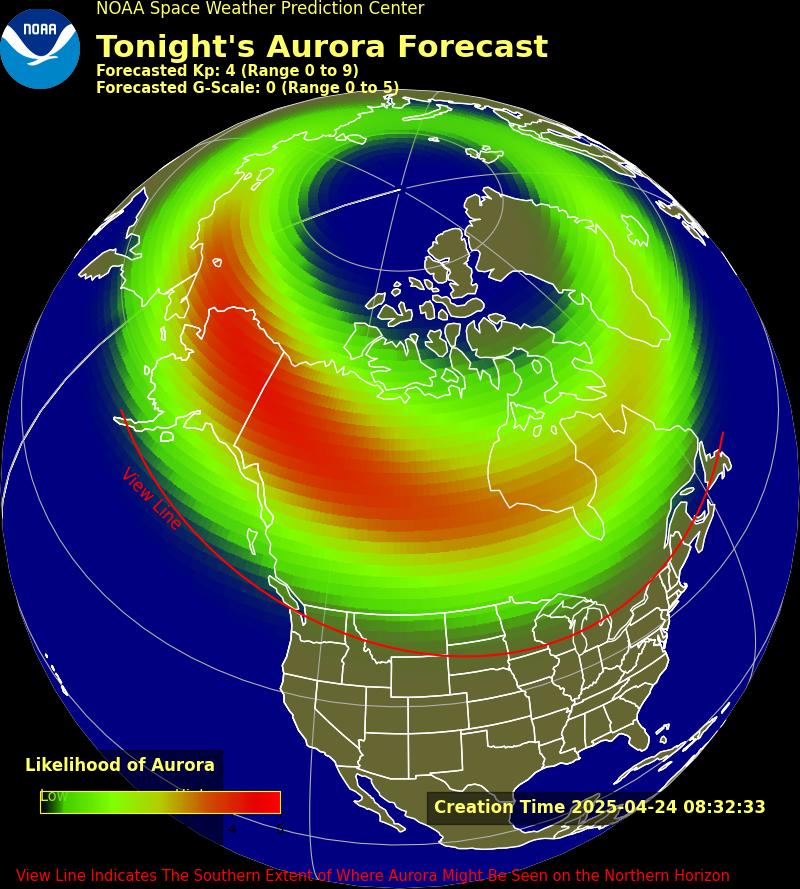 A PicoScope (sometimes known as a labscope) turns your laptop or desktop PC into a powerful diagnostic tool. Think of it as the X-ray machine of diagnostics, letting you see the changing signals inside wires. You can purchase a PicoScope on its own, but most people purchase one of our award-winning Automotive Diagnostics Kits. These money-saving kits contain everything you need – just add a PC.
---
PicoScope Automotive oscilloscopes and kits
New PicoScope 4425A for active diagnostics
Our exciting new PicoBNC ™ probe connectivity, unique to PicoScope 4225A and 4425A oscilloscopes, provides you with:

Channel status lights to show you which probes and channels to connect and their status when you load a data file or guided test
Smart probe interfacing so that all your probe configuration takes place in the software - no more incorrect probe switch positions!
Powered probes that are always on and ready to go - no more flat batteries, current clamp zeroing, or auto-off!
Future-proofing of your diagnostic capabilities as we develop new probe technologies.
Full backwards-compatibility with BNC for all your existing PicoScope or third-party probes



All our automotive PicoScopes have the features that have already helped technicians around the world with vehicle diagnostics:
400 M samples/second and 20 MHz bandwidth to make sure you can test the latest vehicles such as those with high-speed FlexRay or CAN-FD networks

12-bit (16-bit enhanced) resolution - your waveforms in high definition

250 M sample memory for long-duration captures; ideal when you are trying to diagnose intermittent faults

USB 3.0 data transfer speeds and power, providing you with high performance and portability
---
Why do you need a PicoScope?
Could you use a scan tool instead of a labscope? No, you need both.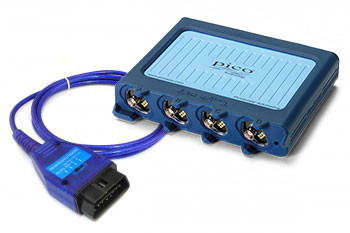 A scan tool only points you in the right direction, perhaps indicating a misfire on a specific cylinder, but rarely does it pinpoint a fault. For example, is the misfire caused by an ignition, injector, or a compression-related issue?

Reliance on a scan tool alone can lead you to "parts darts" where you might find yourself replacing more and more parts until the fault goes away.

Instead, a PicoScope helps you:
Eliminate guesswork and test individual components before replacing them.

Find troublesome intermittent faults.

Investigate vehicle problems when there are no, multiple, or misleading fault codes.

Diagnose charging and starting faults.

Trace problems with actuators that are not monitored by the ECU, such as motors and injectors.

Identify mechanical problems such as compression and slipped / incorrectly fitted timing belts.

Prove the source of an NVH problem

Report your objective findings back to your managers and customers
As a technician, a PicoScope brings you faster, more efficient diagnostics and a clear understanding of the vehicle's workings.

As workshop owner, a PicoScope gives you a "fix it right" culture, with fewer parts changed on guesswork, and increased customer satisfaction, repeat business and profits.
---
Protecting your investment
When you purchase any diagnostic tool, you spend not only money but also time learning how best to use it. We protect that investment in three ways.
Our products provide features that help you if you are just starting with oscilloscope diagnostics, yet but also have the power and tools demanded by experienced users.

We do not compromise on quality or specifications - the PicoScope you buy today will remain an essential part of your diagnostic toolbox ten years from now.

Our regular, free, software updates and new feature releases improve the capabilities of your PicoScope with time.
With all this, it is no surprise that more vehicle manufacturers and aftermarket customers choose PicoScope than any other oscilloscope.
---
Which PicoScope?
We recommend our two and four-channel PicoScope 4225A and 4425A for general workshop use. The floating ground design, ConnectDetect® and 200 V inputs provide you with a very robust and easy-to-use scope.

More about the PicoScope 4225A and 4425A >>

If you are an experienced scope user, perhaps involved in training, vehicle design or in-depth diagnostics, the 8-channel PicoScope 4823 may be suitable. The common-ground architecture limits your maximum input voltage, so requiring a little more care when connecting these scopes.
---
PicoScope Automotive software
PicoScope Automotive software and oscilloscopes a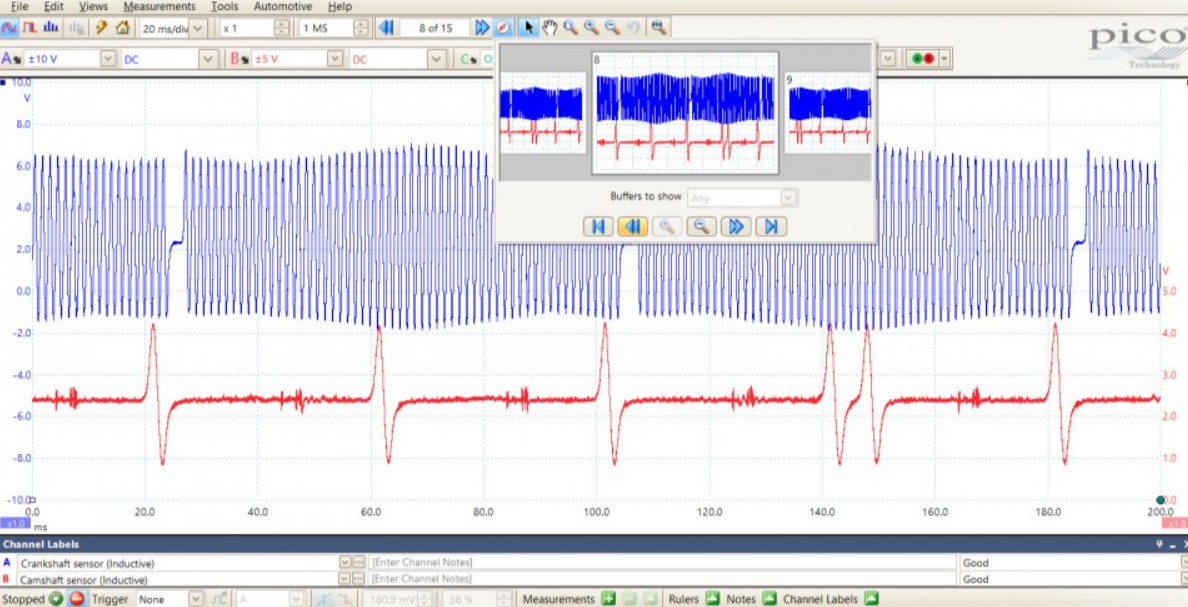 re optimized to work together to give you total trust in the waveforms you capture.

With PicoBNC ™ compatible devices, PicoScope software sets up your scope automatically. You can use channel, sampling and trigger controls to capture your waveform precisely as you want it.

PicoScope Automotive helps you determine your waveform characteristics with a vast range of easy to use and configurable analysis tools:
Time and voltage rulers

Rotation rulers

Measurements

Waveform buffers

Zoom

Views

Filters

Math channels

Reference waveforms

Masks and alarms automatically notify you if a waveform goes out of tolerance. PicoScope can fire off a software event (such as a save to file), meaning you don't have to hang around and wait for the error to show up.

All of these features are wrapped up in a modern, easy-to-use interface. We leave the space free for what matters: your waveforms, displayed in crisp, clear high resolution.

All of this, plus regular updates and new features, with no ongoing subscription.
---
Guided tests, Waveform Library and PicoDiagnostics
As a PicoScope Automotive user, you have access to a unique set of diagnostic resources, consisting of our guided tests, Waveform Library and PicoDiagnostics.

The guided tests set up the scope for you, then tell you how to connect to the vehicle, perform the test, and evaluate your waveforms. Plus, they are full of information to help you understand how the system works and the possible failure modes and associated symptoms.


Sometimes you may come across an unexpected vehicle, waveform or result. Our Waveform Library provides you with over 6,000 waveforms uploaded by PicoScope users all around the world. You can download these waveforms to use as a reference against which to compare your captures or to automatically set up your scope for your specific vehicle and component.


PicoDiagnostics provides you with a set of quick non-invasive tests, simple procedures, and diagnostic conclusions you can share with your customers.

Current PicoDiagnostics test capabilities include:
Relative and absolute (optional) compressions for each cylinder.

Cylinder balance / misfire detection for each cylinder.

Battery cold-cranking amps, state of charge and health, and battery voltage drop during starting.

Starter motor coil-resistance, and voltage-drop down cables.

Alternator output voltage, current and diode ripple.
---
WPS500X pressure sensor kit (optional)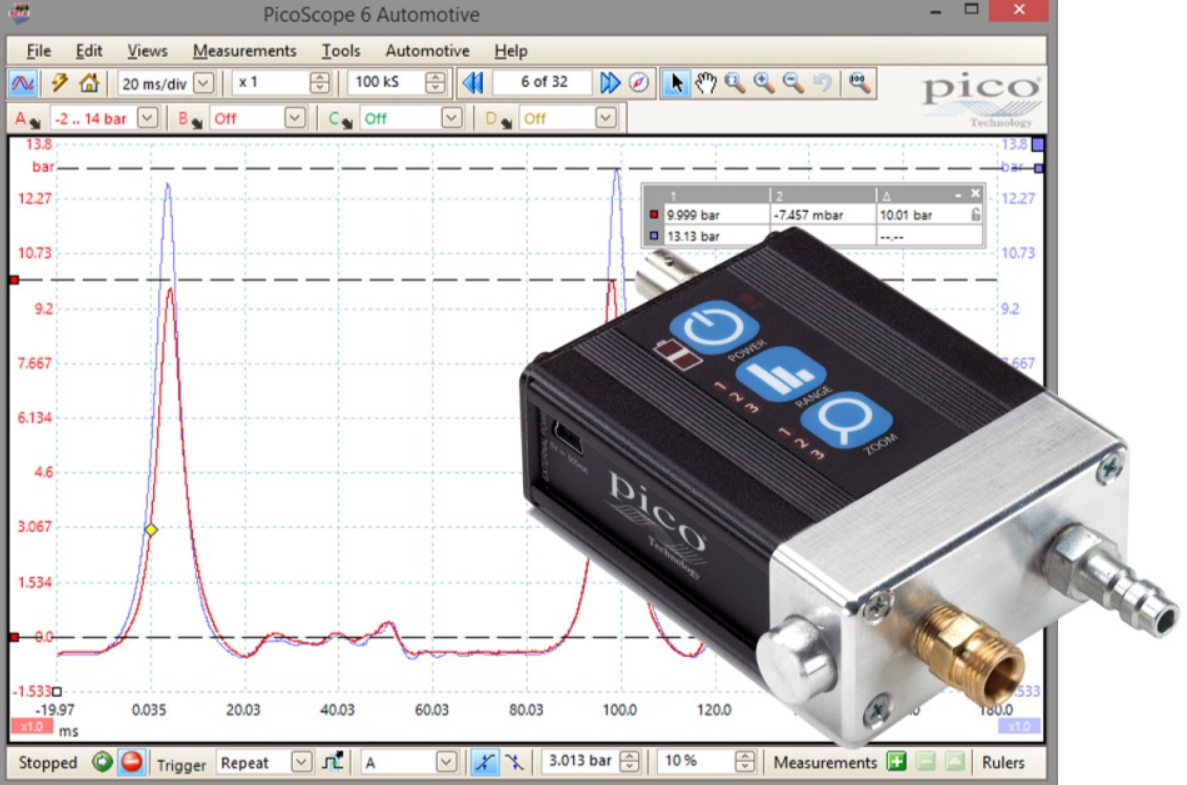 Adding the WPS500X to your PicoScope opens up a new world of diagnostics by turning pressure readings into waveforms.

WPS500X allows you to see the inner workings of your system, such as in-cylinder waveforms. You can see valve and timing issues, mechanical failures, blown gaskets and blocked catalytic converters.

Most pressure sensors can only measure over a limited range (so you need different ones for different tasks). The WPS500X has three ranges in one sensor, so it is flexible enough to work all around the vehicle, including with fuel system pressures, transmission pressures, and intake, in-cylinder, crankcase and exhaust pressures created as air flows through an internal combustion engine.
---
Noise and vibration kit (optional)
Improvements in damping and sound insulation in modern vehicles mean that vibrations and noise that would previously be ignored (by turning up the radio) are now diagnostic headaches. You can lose many hours, and swap many parts in tracking down customer complaints.

The NVH kit works with your PicoScope to quickly identify the source of the problem. If the customer complaint is noise, use the microphone; if it's a vibration, use the accelerometer.

Sophisticated software helps you to quickly identify the offending issue (such as a wheel imbalance) and pinpoint its location (such as the near-side rear of the vehicle).

You can enhance your kit with accessories to also allow on-vehicle driveline balancing.
---
Help all the way
You may know that you should be using an oscilloscope but are perhaps worried they are too difficult to use?

If you are confident using a multimeter and scan tool, you will have no problem learning to use a PicoScope.

The manual guides you step by step through installing the PicoScope and making your first measurement of battery voltage.



Download a user manual >>





PicoDiagnostics is a suite of tests that involve quick non-invasive connections and simple setup procedures, yet provide clear diagnostic conclusions for you to share with your customers.




See Software for more information >>
HARDWARE - PicoScope Automotive oscilloscopes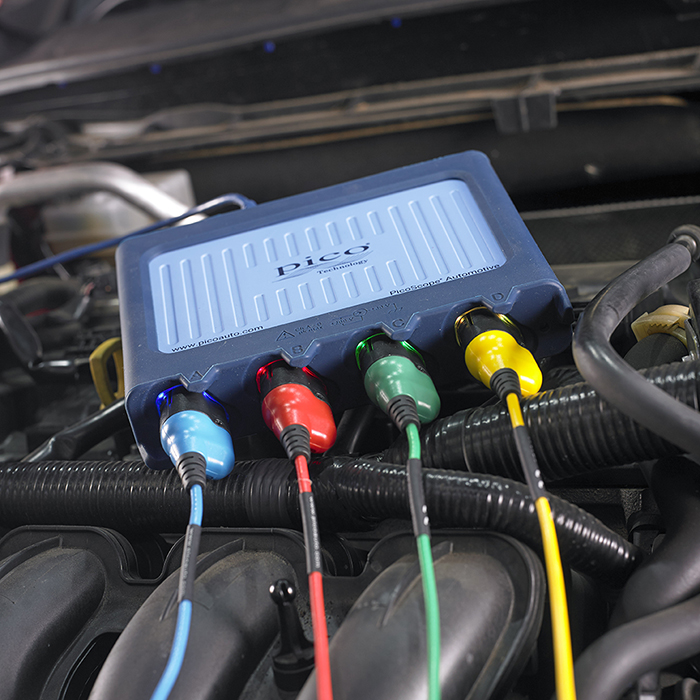 Our PicoScope 4225A and 4425A automotive oscilloscopes come loaded with exciting new features, courtesy of our new, unique, PicoBNC ™ interface. What is even better is that it works with all your existing BNC accessories to preserve your existing investments. With PicoBNC ™ accessories you enjoy the full benefits of the new 4425A.
Channel status lights

Smart probe interfacing

Powered probes



---
Channel status lights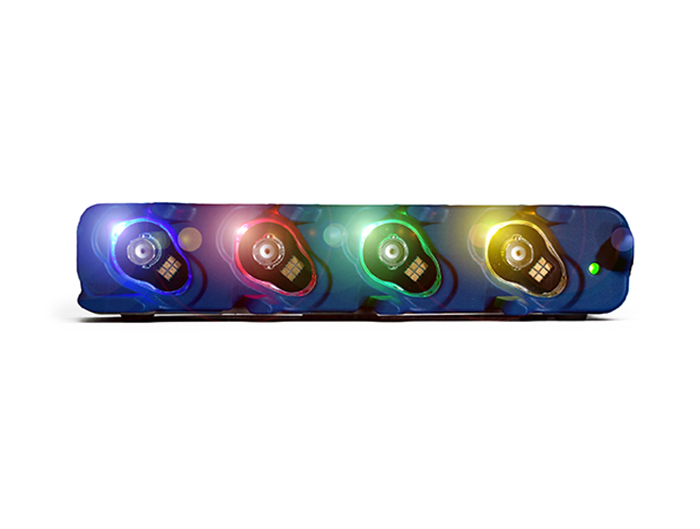 The channel status lights help you to quickly and confidently set up your PicoScope by showing you which probes and channels to connect and their status.




---
Smart probe interfacing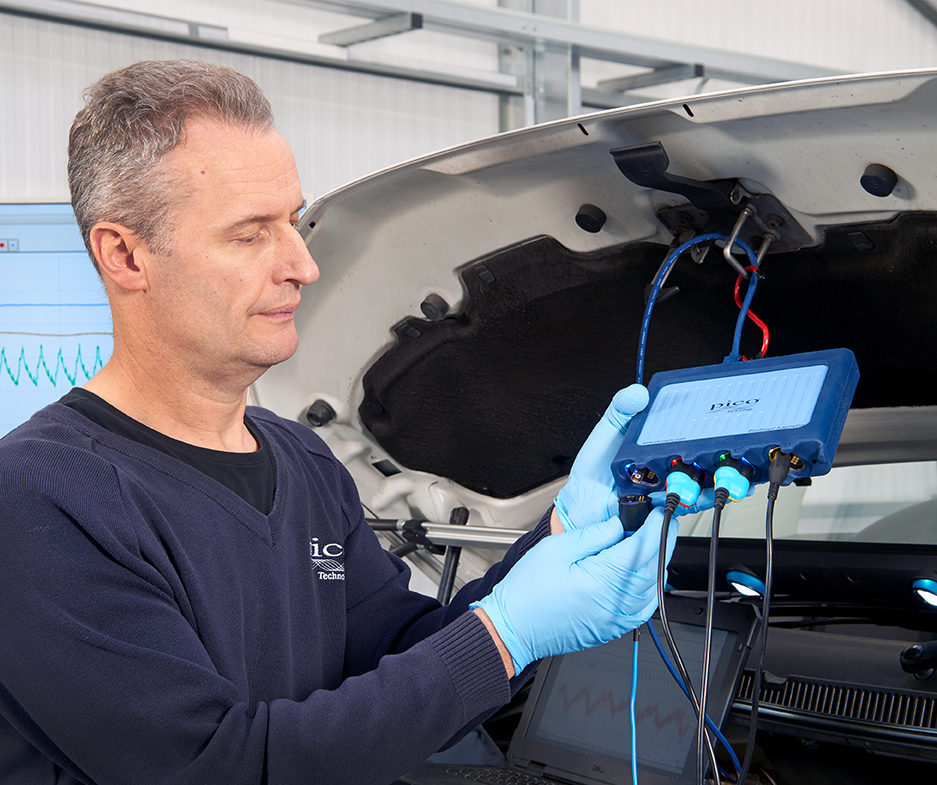 Our PicoBNC ™ smart probe interface allows compatible probes to be recognized and set up entirely within the software. PicoBNC removes the possibility of incorrect hardware settings and ensures that your waveform capture is as intended.

With a 4225A or 4425A diagnostic oscilloscope, you can capitalize on future PicoBNC ™ probe developments and remain at the cutting edge of diagnostics.




---
Powered probes
Smart probes are powered via the PicoScope when connected, allowing long-duration captures (such as overnight battery parasitic drain tests), with no battery concerns.





---
Backward compatibility
As well as full compatibility with your existing PicoScope or third-party BNC probes, this new generation of labscopes retain the tried and trusted features of our previous, award-winning, generation of scopes, such as:
Floating inputs for non-grounded measurements and voltage drop tests

200 V input range

ConnectDetect® to ensure you have a good connection

Hardware filters and frequency measurement

USB 3.0 connected and powered



---
Floating inputs
Floating input channels are a unique new technology that allows safe, low-noise measurements even in situations where none of the inputs are grounded.

Floating inputs allow a single input to perform voltage drop tests (for example, along the battery to starter motor cable) and measurements on non-grounded signals like hybrid electric motor drives. With floating inputs the maximum allowable voltage difference between any two channel grounds is 30 V.

The inputs can measure up to 200 V. A key benefit is that external attenuators are not needed for measuring injector voltages.

Remember: on a floating-input scope, grounding one input does not ground all the others. You must provide signal and return connections for each input that you are using.
---
ConnectDetect®


Making sure that you have a good connection to the signal you want to test is not always easy. With ConnectDetect enabled, indicators on screen, and lights on the scope itself, turn from red to green as soon as a good connection is detected.

Once a good connection is established, the on-screen icons fade so as not to obscure the waveform. If, however, the status changes (for example vibration causes a probe to become loose), the icons will highlight the change.

---
Memory buffer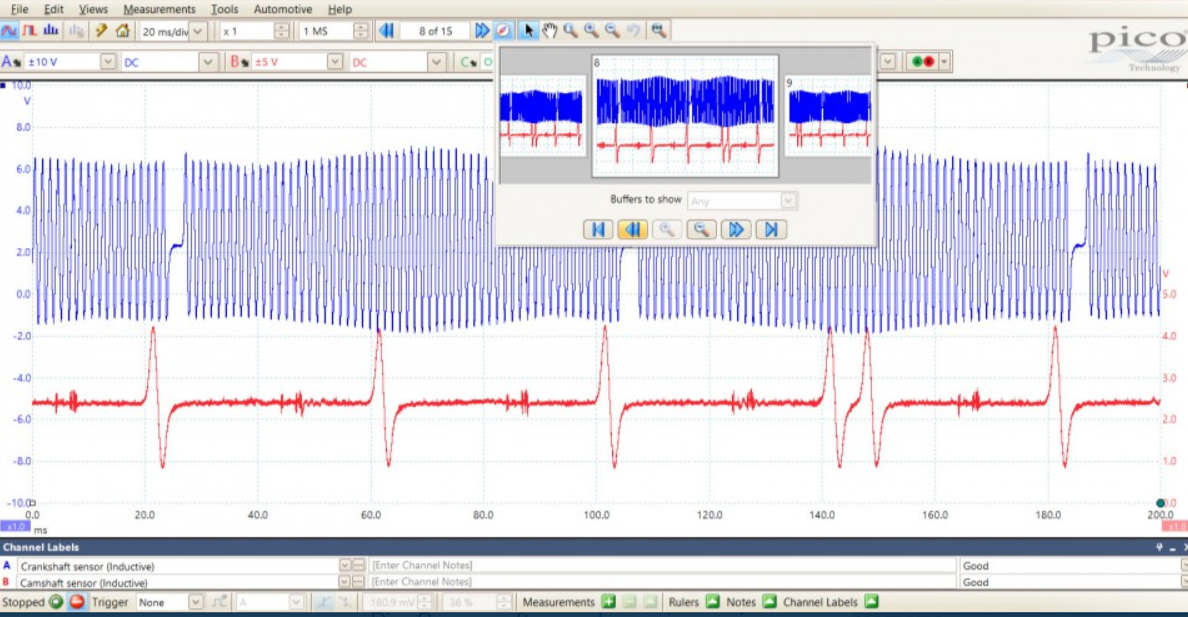 The best way to diagnose an intermittent fault is often to set up the scope to measure from several components and wait for the fault to occur. For an intermittent misfire, you might want to capture several minutes of cam, crank, ignition and injector waveforms. These types of tests require an oscilloscope with a "deep" memory buffer, so that you can capture for long periods of time and then zoom in without any gaps or loss of detail.

With PicoScope you can collect 250 MILLION samples, more than any other automotive oscilloscope. Our advanced "always on" memory technology uses hardware acceleration to make sure that the processing of large amounts of data does not slow the oscilloscope down even when you are using a slower or older PC.

Deep memory allows long recordings at high speed – you capture a complete test drive whilst looking for intermittent faults. When not using the full memory for a single waveform, PicoScope automatically stores up to the last 10,000 waveforms in the buffer, so you can stop the scope and "wind back time" to see every capture.
---
PicoScope software - keeps improving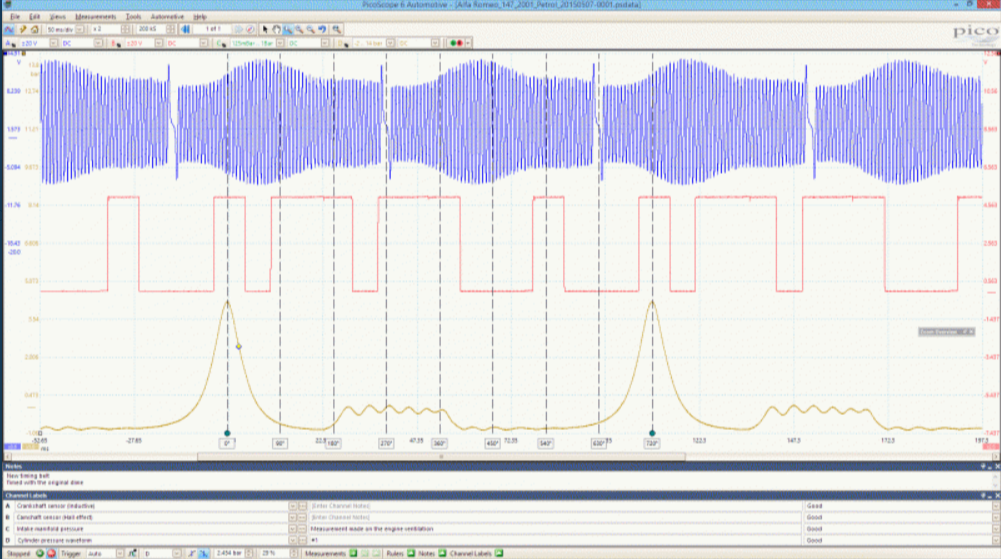 We have been upgrading and improving PicoScope software for over 20 years. This allows us to make the maximum use of the latest technology both in the oscilloscope hardware and the PC itself.

The modern user interface is uncluttered and easy to use. There are no old-fashioned knobs and dials. We leave most of the space free for what matters: your waveforms.

Recent new features include:
720 degree rotation rulers: ideal for looking at engine timing (see waveform showing crankshaft, camshaft and in cylinder pressure).

Channel labels: it's important when saving a file to identify what each channel is measuring but it can be time-consuming. With channel labels you just type in a few letters and a time-saving list of names is presented.

Vehicle database: a list of makes and models is included with the ability to store customer details too. The last few vehicles worked on are stored in a list for quick recall.

Software upgrades are free for the life of the product and download in the background while you are working.

---
Fast sampling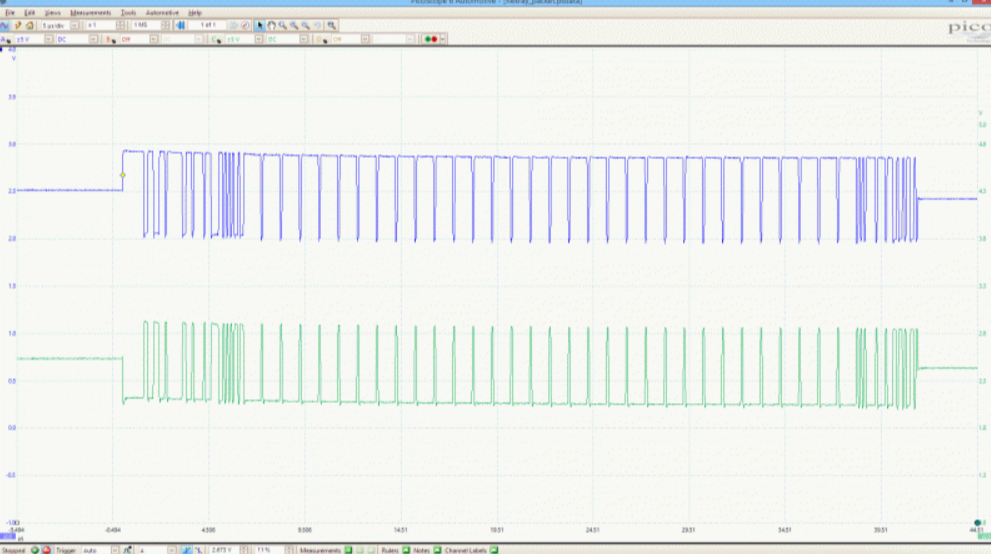 The latest PicoScopes can capture signals faster than ever. With sampling rates of up to 400 million samples per second, there is nothing that can escape the scrutiny of PicoScope.

CAN and FlexRay are now common on vehicles, and new protocols such as SENT for digital sensors and CAN FD (up to 5x faster than the current CAN standard) are appearing in new vehicles. The fast sampling rate ensures that the PicoScope 4000 Series scopes have the speed to handle future needs as vehicle technology changes.

---
USB 3.0 for power, speed and simplicity
As with our previous generations of PicoScope oscilloscopes, no external power supply is required and there are no batteries to go flat, just a simple reliable connection to the USB port.

The PicoScope 4225 and 4425 have the latest SuperSpeed USB 3.0 port to interface to your PC. Don't worry if your PC only has USB 2.0 ports – the PicoScopes are fully compatible with these too. If you have USB 3.0 on your PC you will notice slightly faster screen update rates, faster file saving and USB streaming. As more of our customers move to PCs with USB 3.0, free software updates will ensure that you get the full benefits available from the new standard.

Our unique fast USB streaming allows continuous gap-free data to be collected straight to PC memory. This makes features like our cylinder balance, battery test and (optional) NVH tests possible. It also allows the oscilloscope to display live, real-time data without waiting for the screen to refresh.
---
Advanced features
Advanced digital triggers. Unique among automotive oscilloscopes, these trigger modes allow you to trigger when there is too long a time gap (such as when an injector fails to fire). They can also trigger and sound an alarm when a sensor signal goes out of range.
Filters. Some signals are noisy, as wires in the loom pick up noise from other sources. The vehicle ECUs filter this noise out. The PicoScope 4225A and 4425A have selectable hardware filters to remove this noise, so you see what the ECU sees.

​
Hardware frequency measurement. Flow sensors and some airflow sensors output a digital frequency signal. Most oscilloscopes can't extract usable diagnostic information from this, but your PicoScope can convert it to a conventional analog waveform (as shown in this MAF sensor example).
PicoScope 4225A and 4425A Series Specifications
This table lists the specifications that are most important to the average customer using the PicoScope for automotive diagnostics. If you have a more specific use for the product (or are just curious), detailed specifications are below this table.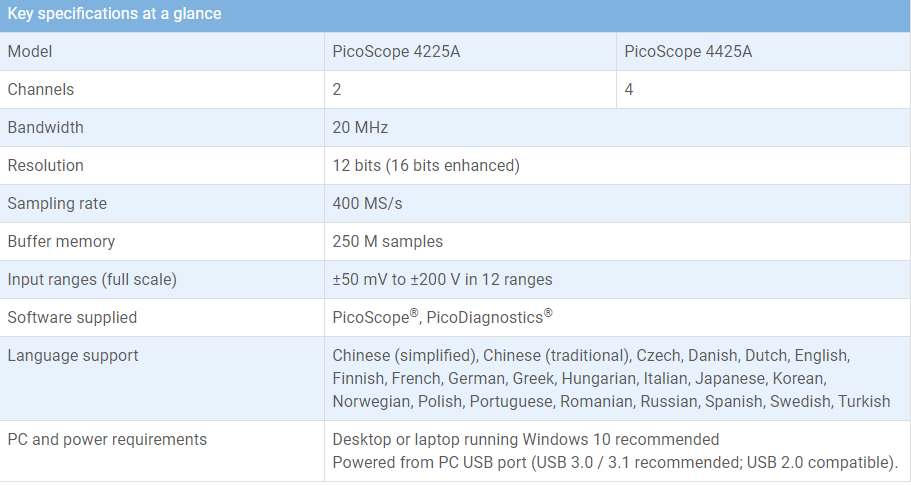 Detailed specifications

Some of our customers use our automotive oscilloscopes for vehicle design and development and other non-diagnostic purposes. For these customers we have provided detailed technical specifications.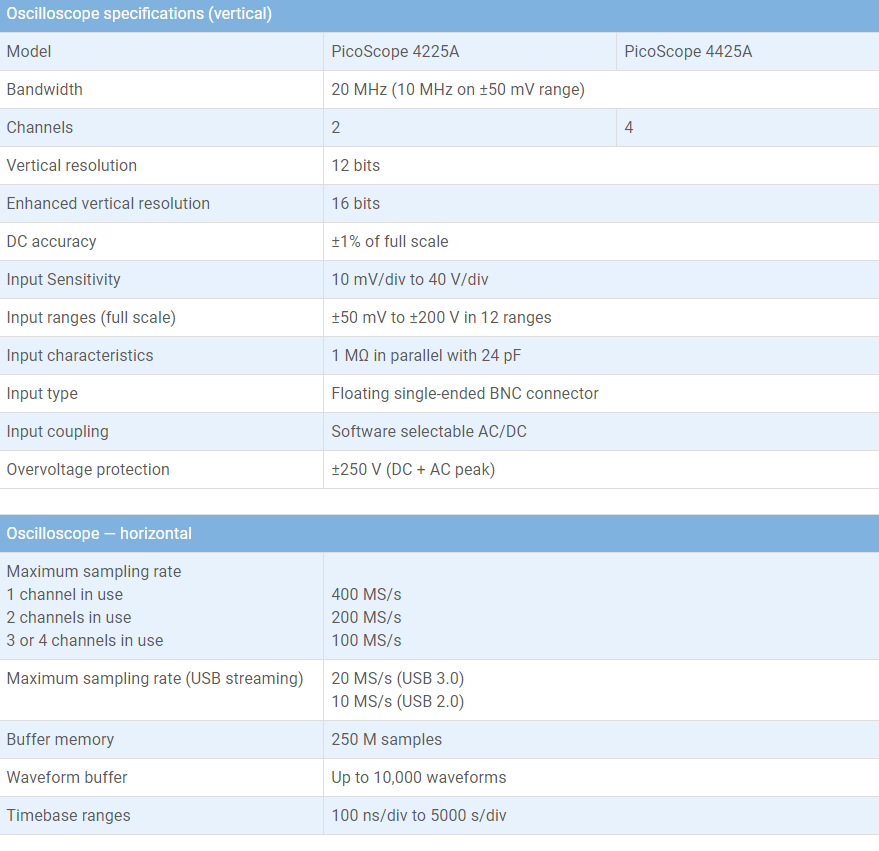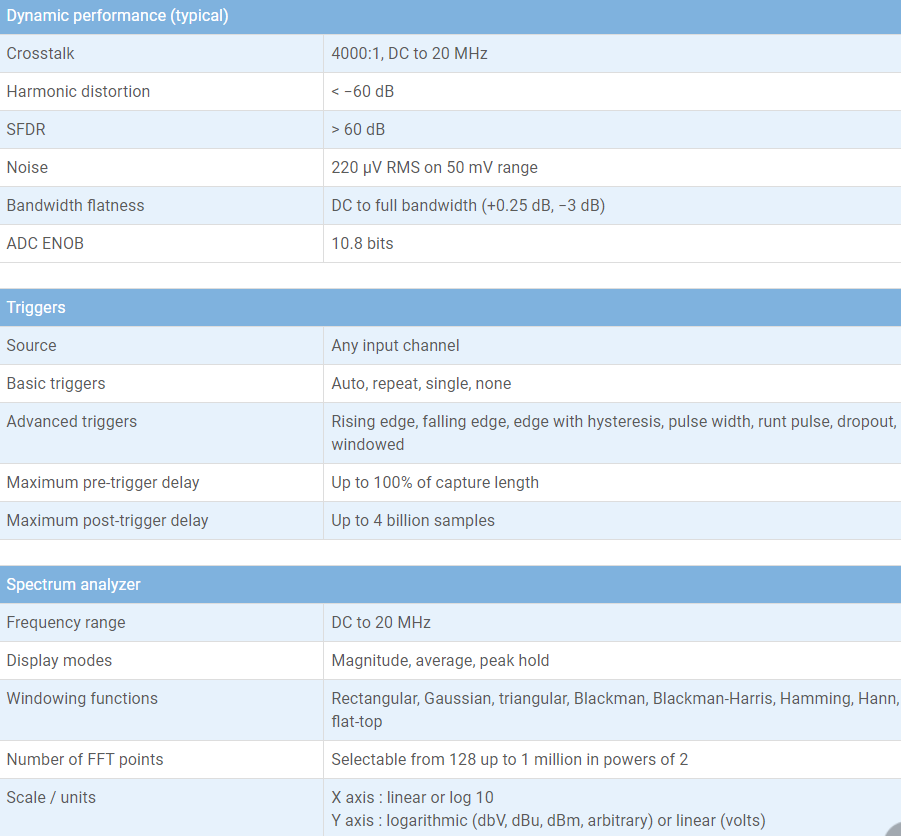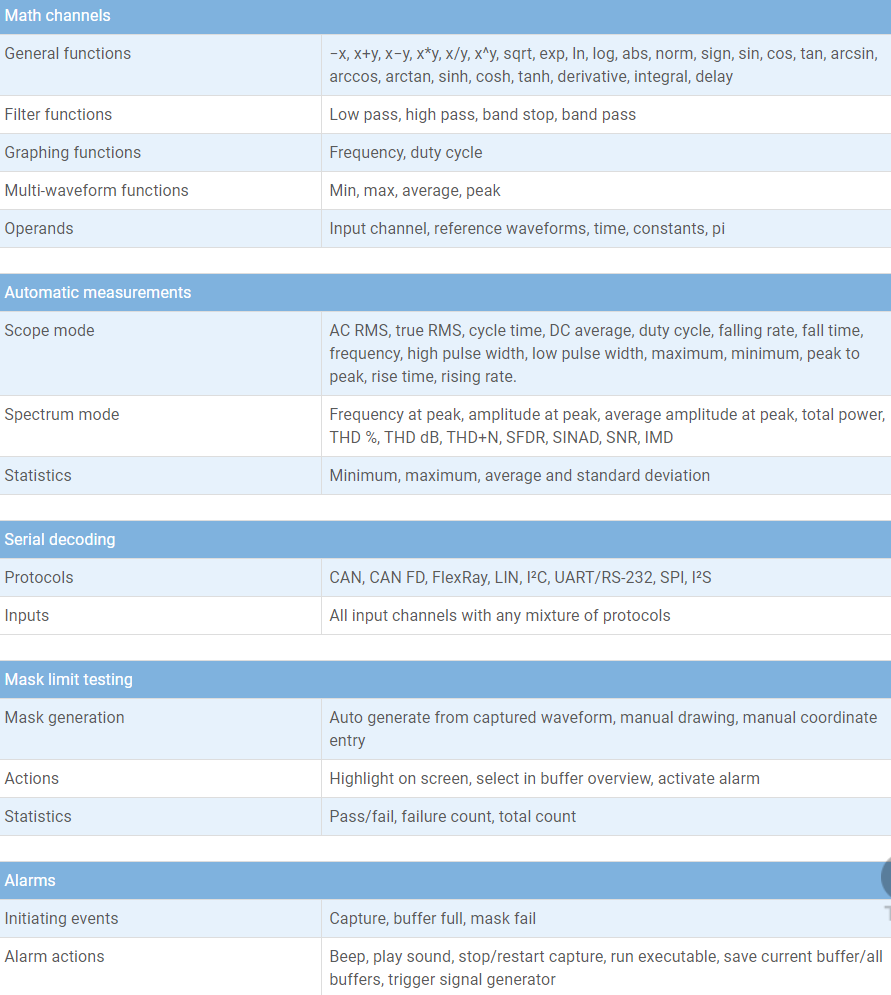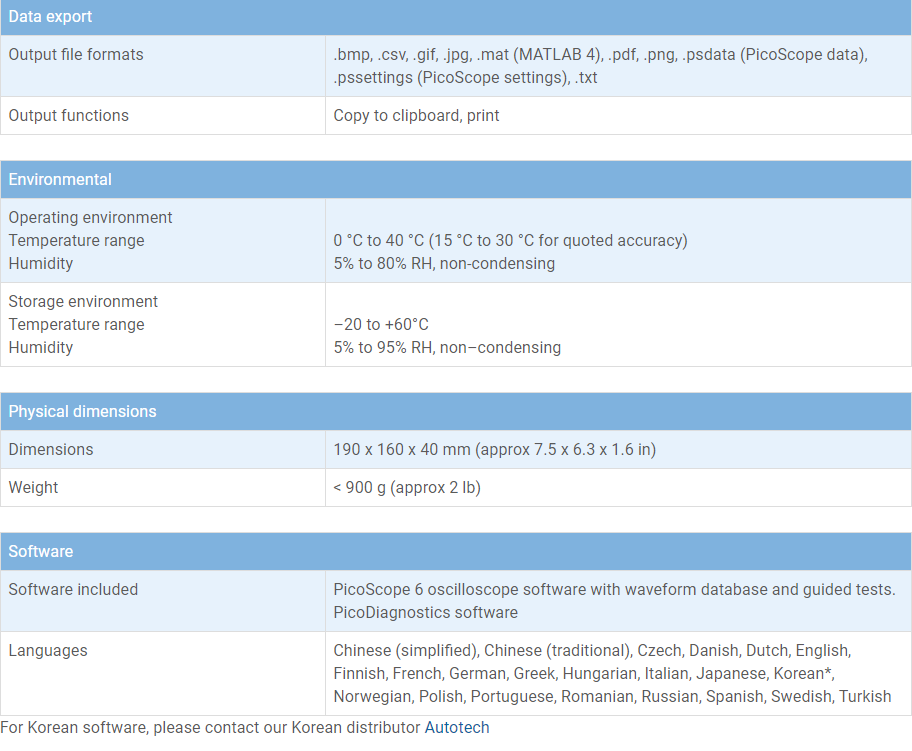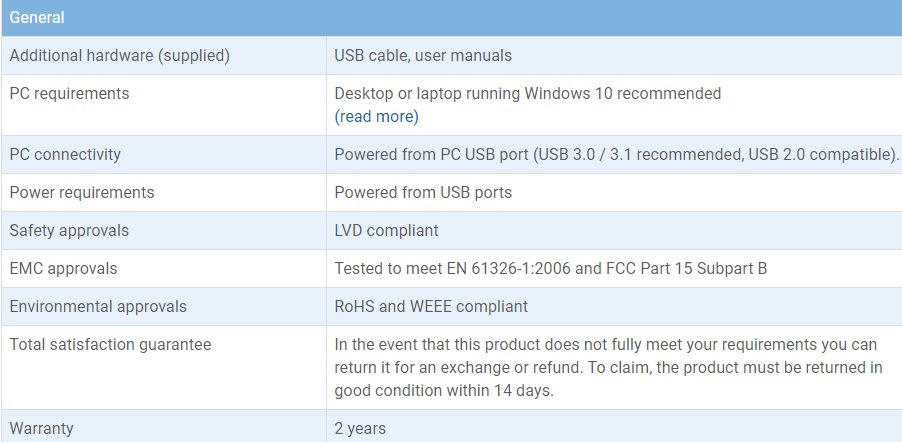 When operated in the presence of high EM fields, interference in the form of additional measurement noise may be experienced. This is no cause for concern but the user should endeavor to minimize any adverse effects so caused through careful positioning when in use and/or not operating close to potential sources of interference such as mobile telephone transmitters, antenna masts, etc.

Download product Data Sheet
PicoScope Automotive software

Our software helps you: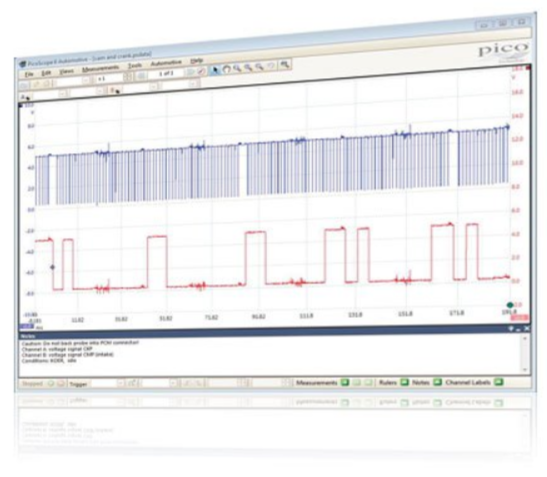 Set up your scope quickly

Capture waveforms you can trust

See your waveforms in high definition and with minimal delay

Evaluate your waveforms with powerful tools

Grow as a diagnostician; save and share your waveforms

Maximize your return on investment

With any automotive PicoScope, you have exclusive access to unique features and a comprehensive set of resources, including our guided tests, the Waveform Library and PicoDiagnostics.

PicoScope Automotive software is free with no subscriptions or in-app purchases.

You can explore the latest version now by downloading and running it with a demo device - you don't even need a scope!

Download PicoScope Automotive software >>


---
PicoScope guided tests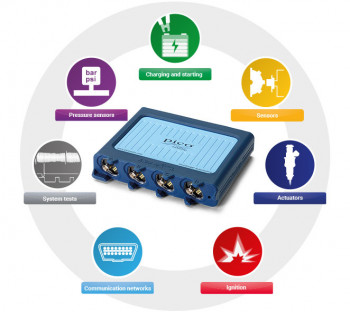 We understand it can be hard to know what to do when you are new to oscilloscope diagnostics. That is why we have created over 150 guided tests, free with every installation of PicoScope Automotive oscilloscope.

Each test:

Sets up the scope for you

Shows you how to connect to the vehicle

Describes how to perform the test

Details typical waveform characteristics and what they mean

Gives you example waveforms

Explains how the system and component work

Outlines related failure modes and the associated symptoms they might cause

Lists related DTCs

The tests cover all the important systems and components you are likely to see, including many sensors, actuators, and network systems, such as CAN bus, FlexRay and LIN.

And we'll continue to add more tests through the free software updates and as vehicle technology changes demand.


---
Waveform Library

Total number of waveforms to date (more than): 6,200

Sometimes you may come across an unexpected vehicle or waveform. How would you know how to set up your scope correctly or whether your captured waveforms are typical? Maybe you need a safe place to store your waveforms, or perhaps you have a captured waveform that you know will help others like you?

Our Waveform Library is here to help. It contains thousands of waveforms uploaded by PicoScope users from around the world. You can search and download these waveforms to use as a reference against which to compare your captures or to automatically set up your scope for your specific vehicle and component. Likewise, you can save and upload your waveforms to keep them safe and help benefit the entire Pico community.

To access the Waveform Library, you must have:

Automotive Forum access credentials

​

An internet connection

A PicoScope Automotive oscilloscope connected

PicoScope Automotive software running

Once logged into the Waveform Library Browser (accessible only via the PicoScope Automotive software File menu) you can search by, amongst other things, manufacturer, model, or engine code. Flexible search allows you to locate a waveform that you may not have found using make or model criteria.

---
PicoDiagnostics

PicoDiagnostics identifies faults that are not easy to find with a scan tool or require additional tooling or equipment. PicoDiagnostics turns your PicoScope Automotive oscilloscope into a powerful diagnostic multi-tool.

With PicoDiagnostics, you can test:

Cylinder compression

Battery, alternator and starter motor condition

Cylinder misfires / balance

PicoDiagnostics saves you time and money - and promotes trust in your customer relationships - with:

Quick non-invasive connections

Simple setup and test procedures

Clear diagnostic outcomes

Easy to share, customisable, reports
---
Cylinder compression

The cylinder compression test helps you to uncover engine mechanical issues in seconds:

Clip a test lead to the battery terminals

Crank the engine

Check the easy to understand bar graph for the relative cylinder compressions (all green bars indicates everything is okay, a red bar indicates a possible issue)

Discuss and discuss the findings with your customer

You can calculate absolute compressions by adding an optional pressure transducer to one cylinder, to indicate cylinder pressures in bar or PSI.


---
Battery, starter and alternator tests

Using PicoDiagnostics, you can check the battery, starter, alternator, and wiring, by just:

Connecting a test lead to the battery

Connecting test lead between the battery and starter motor (optional)

Cranking and starting the engine

The test evaluates the following battery, alternator and starter motor properties:

Battery states of charge and health (SOC & SOH)

Battery voltage drop during cranking

Battery Cold Cranking Amps (CCA)

Alternator current output (for under or overcharging)

Alternator voltage and ripple (for blown diodes)

Starter motor coil resistance (for coil faults)

Battery-to-starter motor cable volt drop (and resistance)

Values have red, amber or green highlighting to indicate the test outcome and can be printed for customers. Your customer can see that the electrical system is in good condition or why a component needs replacing.


---
Cylinder balance

You can check for possible misfires or uneven power contributions across the cylinders with the cylinder balance test:

Clip a test lead to the battery terminals

Start the engine

Check the easy to understand bar graph for the relative power output from each cylinder (all green bars indicates everything is okay, a red bar indicates a possible issue)

Print and discuss the findings with your customer

Please note: this test does not support vehicles having engines with cylinder deactivation or low-compression engines with eight or more cylinders


---
NVH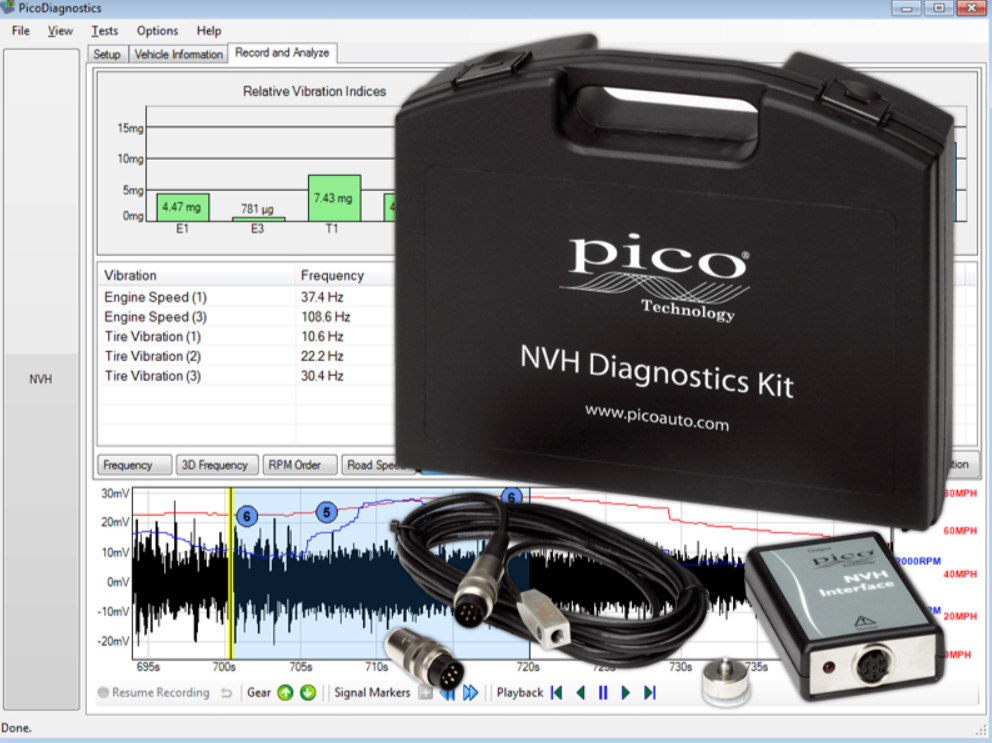 The PicoDiagnostics NVH software can analyze vibrations and help to diagnose NVH problems. All you need is a PicoScope Automotive oscilloscope, the PicoDiagnostics NVH kit and a software license key (available from Pico Technology support).

The PicoDiagnostics NVH system is in use in thousands of workshops worldwide, due to the speed and simplicity of operation in capturing and analyzing both vibration and noise problems across the whole vehicle.

The system can obtain RPM, speed and other PID data via a J2534 interface (not supplied), and includes the ability to view Parameter ID (PID) values in the time domain.

The PicoDiagnostics NVH system includes special time-domain functions optimized for measuring creaks, squeaks and harshness, such as knocks.

There is also an inbuilt Function Generator that can generate sounds using your laptop. These sounds can stimulate resonance, making an object vibrate with a greater amplitude at its natural frequency. This is a very useful feature when customers complain about interior rattles, as they often have difficulty describing the sound or pinpointing the origin.


---
Order your PicoScope 4425A & 4225A Now!