Deliver fast and accurate blueprint takeoffs and design measurements with QuikRuler III. The all-in-one measuring system features an LCD display with built-in surveying program for quick and precise measurements without the need of a computer. Spend less time evaluating dimensions and more time focused on customer satisfaction and new business leads.
Superior Connectivity

Simply plug-and-play to integrate with GTCO CalComp by Turning Technologies Roll-Up III™ or Super L VI™ digitizers. Record and upload numerical data via USB onto any spreadsheet application, including Lotus 1-2-3® and Microsoft Excel®.

Complete and Effective Measuring Capability

QuikRuler III supports all functions necessary to measure lengths, as well as irregular areas in any scale or unit of measurement. A built-in measuring program with easy to read menu provides unlimited access to create highly accurate designs. The complete measuring platform also performs standard calculator operations and item counts on blueprint models.

Measuring Functions

Area, Length Segment, Length Continuous, Count, Perimeter, Unites, Scale, Auto-Scale, and Count-Scale.

Calculator Functions

Add, Subtract, Multiply, and Divide.

Units of Measure

Inches, Feet, Yards, Miles, Millimeters, Centimeters, Meters, Kilometers, and No Units.
The Affordable Measuring Workstation for
Architects, Construction Estimators, Engineers & Surveyors
QuikRuler III is an exciting new tool that quickly and accurately automates blueprint takeoff and drawing measurement processes. It includes everything you need to get started: a GTCO Roll-Up© digitizer, pointing device, measuring menu and LCD display with a sophisticated, yet east to use built-in measuring program. Best of all, the QuikRuler is compatible with all leading estimating software, so your investment is protected when you choose to upgrade to the even higher performance of a computerized estimating system. For more information, or to locate the dealer nearest you, call toll free in North America 1-877-902-2979 or
1-(604)925-6150 for International Customers.

Easy to Use -
Absolutely No Computer Experience Required! QuikRuler requires no special training or computer experience... it only takes minutes to start measuring.

For example, to measure an area, simply select AREA from the menu then trace or touch points along the perimeter of the area with the pointing device. The resulting measurement will appear (in English or metric units) on the LCD display.

QuikRuler can also be connected to a PC through the USB port to automatically input numerical data into any software program, including Lotus 1-2-3® and Microsoft Excel®.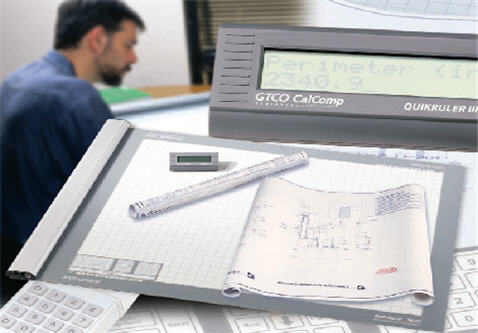 Win More Bids!
QuikRuler is proven to deliver faster, more accurate takeoffs and measurements, boosting performance up to 3 times! It includes all functions necessary to measure lengths, as well as irregular areas in any scale or unit of measurement. In addition, QuikRuler performs standard calculator functions and can count items on blueprints or drawings with ease. More bids means more jobs... Greater accuracy means bigger profits!
Uses
Perfect for construction estimators, architects, engineers, surveyors, and other professionals who require fast, accurate
measurements from drawings.
Affordable
The QuikRuler delivers superior performance at a price below that of conventional large format digitizers and doesn't require a computer to operate. (Digitizer must be bought separately)
Portable
Light weight and only 1/8" (3.2mm) thick, QuikRuler is easily rolled for storage or transport to a task sight.

USB Interface - QuickRuler III interfaces to the RUD III or Super LVI via the USB interface

Compatibility
Quickruler III standard works with Roll Up III or Super LVI (USB) in order to use QuickRuler III with Roll Up or SL models prior to the above models (Serial interface) you will need to order the special QuickRuler Legacy Cable Kit - Discuss with your sales rep.

Standard Equipment
Drivers for DOS® and Windows®
Power Supply
LCD Display featuring 16 Characters x 2 lines (2.25" x 0.75", 57mm x 19mm)
USB Cable
Measuring Menu
Shipping/Storage Tube with Insert
User's Manual
In order to use the QuickRuler III you will need to buy either a GTCO Roll Up III or Super L VI

Active Area Footprint Weight Avg. Ship Wt.
Model

Size

Footprint

Weight

Ship weight

2024-QR

20" x 24"

28" x 29"

5 lbs

14 lbs

(508 mm x 610 mm)

(711 mm x 737 mm)

(2.3 kg)

(6.4 kg)

3036-QR

30" x 36"

35" x 44"

7 lbs

18 lbs

(762 mm x 914 mm)

(889 mm x 1118 mm)

(3.2 kg)

(8.2 kg)

3648-QR

36" x 48"

41" x 56"

8.25 lbs

22 lbs

(914 mm x 1219 mm)

(1041 mm x 1422 mm)

(3.8 kg)

(10.5 kg)
Standard Features
Measuring Functions Area, Length Segment, Length Continuous, Count, Perimeter,
Units, Scale, Auto Scale, Count Scale
Calculator Functions Add, Subtract, Divide, Multiply
Units of Measure Inches, Feet, Yards, Miles, Millimeters, Centimeters, Meters,
Kilometers, No Units, Scale Any Scale

Standard Specifications
Thickness 0.078" (3.2 mm)
Roll Diameter 8" (203 mm) recommended
Resolution 0.0004" (2540 lpi) / 0.010 mm (100 lpmm)
Hardware Interface RS-232 Serial Interface (not required)
Lock Height Digitize through plan books up to 0.5" (12.7 mm) thick. Simply slide digitizer between plans for thicker plan books.
Power Supply 9V at 500 mA
Operating Temp. 40°F to 115°F (5°C to 46°C)
Storage Temp. 0°F to 150°F (-18°C to 66°C)
Warranty Two Year Limited US Warranty, Free Technical Support
QuikRuler III Users Manual

ORDER YOUR QUICKRULER HERE:
| | | |
| --- | --- | --- |
| 2024 QuikRuler System | 3036 QuikRuler System | 3648 QuikRuler System |
| | | |