Fast Sampling | Huge Sample Buffer | Unmatched Features | Pocket-sized | Patented
Upgradable Mixed Signal Oscilloscope, Logic Analyzer, Signal Generator, and Protocol Analyzer

Features | Downloads | Manual |
The Tools You Need - All In One Place

Introducing the Ultimate PC-Based Programmable Multifunction Mixed Signal Oscilloscope - Logic Analyzer with I2C, SPI, Async, SDIO, 1-Wire, CAN protocol decoders, Digital Signal Generators, Frequency Counter and integrated Protocol Analyzers in a compact and easy to use USBee Test Pod.

Designed to Solve Your Toughest Problems

Using patented technology, the USBee RX has 2 analog and 18 digital channels, 100MHz sampling, 512 million bit internal buffers, Dual 10-bit ADC's, independent 100Msps 8 channel Digital Signal Generator, 7Msps Analog Signal Generator, /- 60V protection on all inputs, Variable Logic Thresholds and USB overcurrent protection. And that's just the hardware.
Mixed-Signal Multi-level Protocol Decoding

Combined with the USBee Suite software, the USBee RX becomes a multi-layer protocol decoder for many of today's serial and parallel busses, letting you debug at the waveform, bus data, or packet level.

In-Field Upgradable System Supports Addition of New Features

Based on a proprietary design that allows the software, firmware and hardware to be dynamically reconfigured using web-based software downloads, the USBee RX and its ever growing list of Applications ensures that you will always have the most current tools available for years to come.
With a single USB connection to your laptop or PC, the USBee RX gives you the power to design, prototype, test, and validate your mixed signal electronic designs with seamless ease. Built upon the popular, award-winning and patented USBee mixed signal Oscilloscope, Logic Analyzer, Signal Generator, and Protocol Analyzers, the USBee RX takes full advantage of the powerful debug capabilities of the USBee Suite software to solve your problems fast!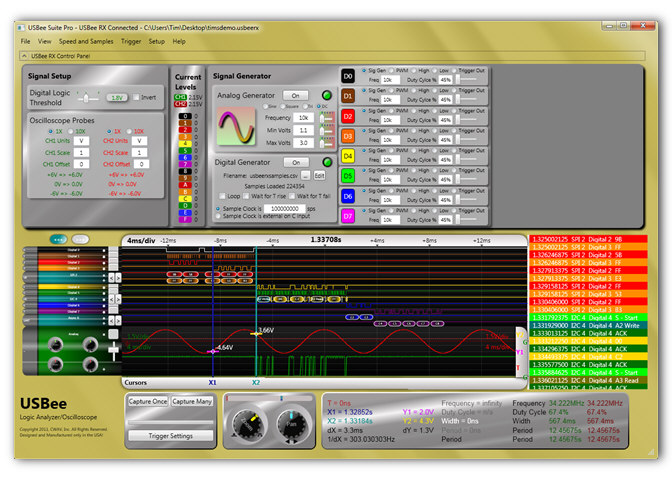 USBee Suite Screenshot showing the expanded USBee RX Control Panel
USBee RX Features
The USBee RX running the USBee Suite Application provides the following features:

Mixed Signal Logic Analyzer/Oscilloscope

Overview

2 analog and 18 digital channels

simultaneously sampled at up to 100Msps

512 Million bit Sample Buffer stores 16 million samples or 8 million transitions

Real-time Sample Compression on all channels

Internal clocking to 100MHz. External clocking at up to 50MHz.

Mixed Signal, multistate triggering

Analog Channels

/- 6V input with x1 probe (included)

/- 60V input with x10 probe (included)

Dual 10-bit 100Msps ADC channels

DC coupled inputs with 1M ohm in parallel with 5pF

Digital Channels

/- 60V tolerant inputs

Variable logic threshold from -1V to 2V

Supports 1.2V, 1.8V, 2.5V, 3.3V and 5V logic levels

PacketPresenter Protocol Analyzer

Decodes serial and parallel bus data in-line with the waveforms

I2C, SPI, Async, USB Full and Low Speed, CAN, SDIO, 1-Wire, SM Bus, I2S, and your own Custom Bus using the Custom Decoder API

7 Layer Configurable Protocol Decoder displays bus data as packets as in your data sheet

Logic Probes

Volt Meters

Measure 2 channels of DC voltage from /- 6V ( /- 60V for X10 probes)

Great for battery monitoring, reference voltages and logic levels

Bus Data Extractors

Decodes I2C, SPI, Async, 1-Wire, USB, CAN, I2S and Sync Serial busses

Captures continuous real-time bus data

Stores data to disk or process it in real-time

Runs indefinitely

Captures entire test sequences

Monitors embedded system data flows during normal operation

Processes or stores Megabytes, Gigabytes or Terabytes of data

Lets you write your own software to further process the extracted data using the Extractor API libraries.

Analog Function Generator

Create DC, Sine, Triangle, Ramp and Square waves

8 to 128 samples per cycle

Sample Frequencies between 0 Hz and 7.3M samples / sec with 45nsec resolution

0 Hz to 917kHz Output

Signal minimum and maximum voltage variable from 0 to 3V

Digital Signal Generator

0 to 100MHz sample rates

1 to 65536 user definable samples using .CSV files

8 digital output channels

External Trigger input

0 to 3.3V output levels

12mA drive capability

Power Supply Output

Externally available VBus output to provide 5V to your circuit

100mV available while USBee RX is sampling

USBee RX Toolbuilder API

Create custom applications using simple API calls

Access all of the features of the USBee RX

Voltmeter Mode

High Speed Mixed Signal Capture

Digital Signal Generator

Analog Signal Generator
The USBee RX Package
The USBee RX comes with the following items:

USBee RX Test Pod

2 100MHz oscilloscope probes with x1 and x10 selection

11 lead 9-inch signal generator cable set

20 lead 9-inch logic analyzer cable set

20 high performance micro grabber test clips

6 foot USB cable

USBee Suite Software (downloaded)

USBee RX and USBee Suite Manuals (downloaded)
PC System Requirements
The USBee RX requires the following minimum PC features:
Windows® 7, Vista, or XP operating system (32 or 64-bit)

Pentium or higher processor

One USB2.0 High Speed enabled port. It will not run on USB 1.1 Full Speed ports.

32MBytes of RAM

125MBytes of Hard disk space

Internet Access (for software updates and technical support)
---
Buy your RX Online:


---