Superior Data Integrity Guaranteed! GTCO's Surface-Lit AccuTab Digitizer sets a new standard for superior data integrity in a back-lit tablet. From engineering through production, every aspect of the Surface-Lit AccuTab Digitizer has been designed to provide the highest level of data integrity available today - guaranteed. AccuTab's coordinate resolution, measurement accuracy, repeatability, product reliability, and system compatibility are all backed by GTCO's exclusive performance guarantee. For more information, or to locate the dealer nearest you, call 1-800-663-6001 or 1-(604) 925-6150
Cool Working Surface
The cool Surface-Lit AccuTab provides improved accuracy and operator comfort. On the work surface maps and drawings are
not heated as with conventional fluorescent back-lit tablets,eliminating errors.
Energy Saving
Surface lighting uses less than half the bulbs of conventional
back-lit tablets and consumes less energy.
Thin Profile
At one third the thickness of conventional back-lit tablets, the Surface-Lit AccuTab provides more legroom and a more ergonomic digitizing position.
Lightweight
Half the weight of conventional back-lit tablets,the Surface-Lit AccuTab does not require an expensive motorized pedestal and is safer to use.
Compatibility
The AccuTab is compatible with all leading GIS, Mapping and CAD hardware and software, including Intergraph® MicroStation®
and Class One compatibility with ESRI's ARC/INFO®software.

High Precision Transducers
The Surface-Lit AccuTab comes standard with a 16 button cursor featuring an optical quality glass reticle with ultra fine etched crosshairs.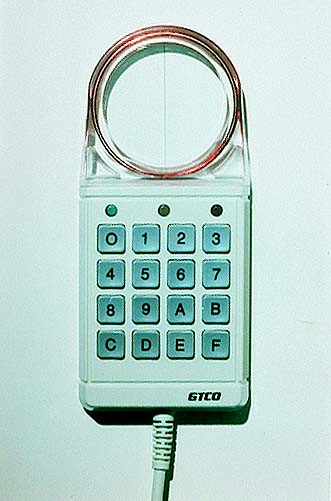 Ease of Use
Initial set up and switching between applications is easy with GTCO's exclusive AccuSet© menu which allows simple one-step digitizer configuration for all leading software applications.
Performance Guarantee
Surface-Lit AccuTab Digitizers come with GTCO's exclusive 5 year Limited Performance Guarantee to cover resolution, repeatability, and accuracy. If at any time during the 5 years your AccuTab doesn't perform within specifications, GTCO will repair or replace your AccuTab and return the tablet with a report verifying your AccuTab's performance to specifications. (contact GTCO for a complete copy of the exclusive AccuTab Performance Guarantee)
Standard Equipment
AccuTab Surface-Lit Digitizer with Controller
16 Button Cursor with optical glass reticle and ultrafine etched crosshairs
Drivers for ADI, Windows®, Mouse
9 to 25 Pin Adaptor
Power Supply
Pedestal Mounting Brackets
AccuSet Menu
User's Manual
| | | | | |
| --- | --- | --- | --- | --- |
| Model | Active Area | Footprint | Weight Average | Ship Weight |
| 2024 | 20" x 24" | 31" x 36" | 50 lbs | 70 Lbs |
| | 508mm x 610mm | 787mm x 914mm | 23kg | 32kg |
| 2436 | 24" x 36" | 35" x 48" | 68 lbs | 90 lbs |
| | 610mm x 914mm | 889mm x 1219mm | 31 kg | 41 kg |
| 3648 | 26" x 48" | 47" x 63" | 102 lbs | 130 lbs |
| | 914mm x 1219mm | 1194mm x 1600mm | 46 kg | 59 kg |

Standard Features
Thickness/Surface 1.34" (34 mm)/ 1.6 (40 mm) surface, 2.2" (57 mm) edges
Resolution Up to 0.00025" (4000 lpi), 0.006 mm (150 lpmm)
Absolute Accuracy ± 0.005" standard accuracy (± 0.127 mm)
(Written Certification) ± 0.003" optional accuracy (± 0.076 mm) ± 0.0075" optional accuracy (± 0.190 mm)
Repeatability 1 LSB (least significant bit)
Proximity 0.5" (13 mm) nominal
Output Formats GTCO Type 5/5A Binary and ASCII, Summagraphics Microgrid, CalComp 9500
Interface RS-232 Serial Interface
Self Diagnostics Automatic testing of tablet, drive electronics, and microprocessor
Operating Modes Point, Line, Continuous, Line and Continuous Incremental, Remote Request
Baud Rates 1200 to 38,400
Power Supply 100/120/22/240 VAC, 50/60 Hz
Operating Temp. 41°F to 115°F (5°C to 46°C)
Humidity Range 10% - 90%, non-condensing
Storage Temp. 0°F to 150°F (-18°C to 66°C)
Altitude Range 0 to 10,000 feet, 0 to 3077 meters
Certification FCC-B, ETC (UL), CE (VDE), CSA
Cursor Switches Elastomeric keypad, rated life over 1 million actuations
Illuminance/Color Temp. 2900 Lux (variable)/5000K (natural sunlight)
Warranty Five Year Limited US Warranty, Free Technical Support
Performance Guarantee Five Year Limited Performance Guarantee
Upgradability AccuTab can be upgraded to the Surface-Lit Accutab at the factory

Optional Equipment/Accessories
Pointing Devices 16 Button Illuminated Cursor, 4 Button ClearVu© Cursor, Red Bullseye Reticle for Cursor, Magnifier, Binary Stylus
Drivers WINTAB Driver
Accessories Pedestal Mounting Bases