Log In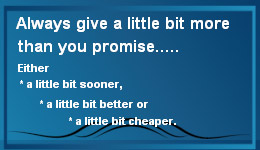 Credit Cards Accepted
Aurora Probability in Northern Canada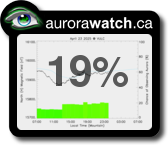 North America Aurora Map from
NOAA Space Weather Prediction Center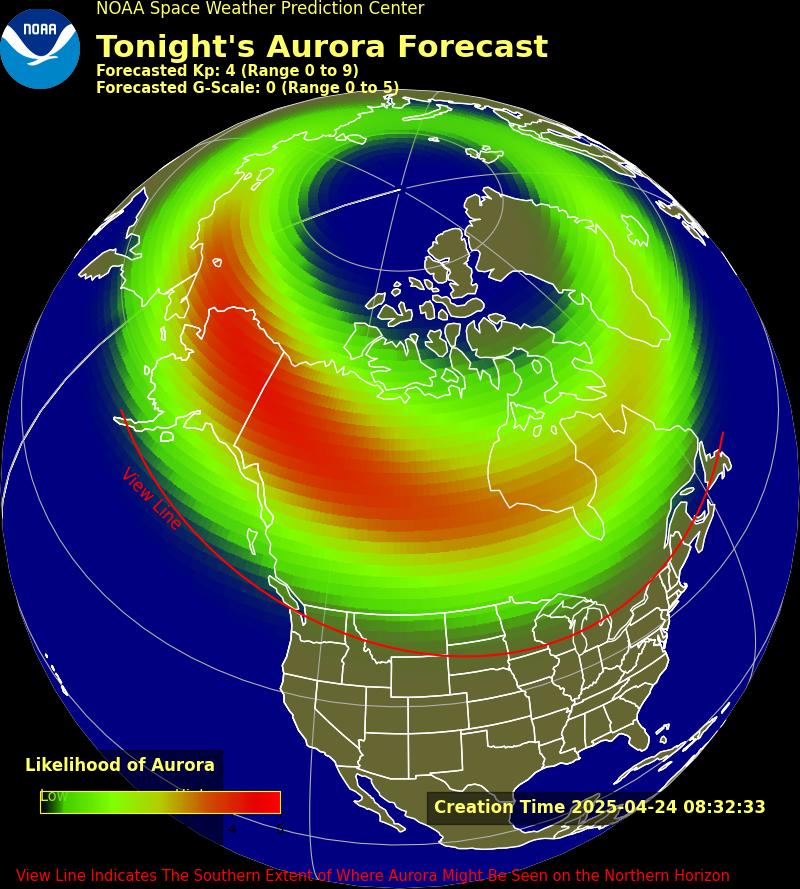 ---
Testimonials and references from satisfied Customers
---
At 08:43 AM 10/15/2014

From: David G
To: Gerry
Subject: RE: Our recent order


Gerry,

I wanted to say a sincere thank you for helping us with the order we placed for our client. Because of you we maintain the image of being the "go-to" people, able to do things other vendors cannot. If you hadn't been prepared to put so much effort into an order for an unknown customer, with an unknown potential, under such tight time restrictions, we'd never have made it, as we truly had no other options at that point.

I have been told by our client that they want their vendor (us) to stock some items for quick future service, so when I get back in the office I will call you to get a better understanding of models/features and pricing, and will place an order.

In addition, it is my intention to approach another of our large clients about your products (vs. the competition) and hope that this will raise a much bigger opportunity for both of us (as the alternative client manufactures a much higher volume than Client A).

Back to my original point, a genuine thank you for your help and hope we can repay your efforts through future business!

As a final note, I think that Helen in your office is a star – lovely personality, very happy and eager to help – hard to find these days!!

Regards,

David
General Manager

---



Jan2, 2014

From: "Steve F"
Subject: Thanks
I'd like to thank Gerry for his help in solving my technical issue with my 13-year old Roll Up II digitizer board. I thought I needed to purchase a new one but he quickly diagnosed the problem and I was up and estimating within minutes of his call. Though he may have lost an immediate sale, he gained my respect and a permanent customer. Thanks again.
Steve F.
GCI
Springfield, MA
---
Date: Tue, Oct 30, 2012 15:48:17 -0700

From: pdsmaps@.................

Subject: Gerry's assistance

I own a drafting business ( I'm the only one here) and have grown accustomed to depending on my Summagraphic V digitizer for 17 years. When it started misbehaving I was rather desparate as all my work depends on the digitizer. After consulting with a tech support person, I was convinced there was no hope for my digitizer.

By chance I had a phone number I had on my User's Guide for a long time and called that number . I was connected up with Gerry and had just about finished the sale when I started telling him the weird things my digitizer was doing.

He suggested that he take a look at it and after working his magic, it now seems to work normally! I am extremely grateful that he took the time to help me out and by so doing, did himself out of a sale. However, nothing lasts forever and whenever this tablet does die I know which phone number to call. And perhaps I'll be better able to afford a new tablet then.

I really appreciate Gerry's patience, skill and concern. Thank you for having such a great employee.
Sincerely,
Cathy Tarte,
Precision Drafting Services,
Houston, Texas 713 660-.......
---
Hello,
Just wanted you both to know that I am very pleased with my Pico 3205B. So pleased that I put my Tektronix on the shelf.
I would not have ordered this PC Scope were it not for the responses I got from you both and knowing about the 14 day trial period.
Count me as very satisfied!
-Steve
Steve Osborne ETECH-LLC
236 Craig Manor Road
Lancaster, SC 29720
---
Date: Wed, 11 Apr 2012 14:21:25 -0700
To: [email protected]
From: Chris
Subject: Re: TG-4100

Gerry,
This device is perfect! Looking forward to obtaining more in the near future.
Thank you for the excellent service,

Chris
Department of Natural Science
University of Alaska Southeast-Ketchikan
---
Recent Online Text Chat (04/04/11):




Debbie:

where can I download the xp driver for a GTCO Super L II Plus digitizer?

Welcome Debbie! Your request has been directed to the Technical Support department. Please wait for our operator to answer your call.

Gerry:All our drivers are available for download from our web site, use this
url: https://www.interworldna.com/GTCO/gtco-drivers.php - hope this helps. You want the tabletworks driver however if you are using Autocad this will not work, please advise what software you are using?

Debbie:Quick Measure
Gerry:this is the correct driver.
Debbie:Looking for the driver right now, will let you know quickly if I have a problem
Debbie:The only one I can find is the super LVI
Debbie: Need GTCO Super LII Plus for XP
Gerry: the tabletworks driver 10.08 will work with ALL Gtco digitizers going back to 1983 models, Super L, Super LII, II , III, IV and VI
Debbie:Ok looking for it now
Gerry: also works with 2000, XP, VISTA and Win 7
Debbie:Found it, it's installing, will let you know when it's done
Debbie: I think it's ok, it just doesn't recognize the curser. Received the following message "an unknown cursor has been detected! Please specificy a cursor type under info of the TabletWorks control Panel"
Gerry: ok, hope it works for you, there are settings that need to be correct for it to work such as you have to select superset S01 and then in the controll panel for tabletworks there are a number of setting however Tally would have to help you with those.
Debbie: Ok, will try to figure it out, if we can't will go to Tally. Thanks for your help.
Gerry: You will know that the tablet and tabletworks are working if you can move the pen or cursor on the digitizer and your mouse pointer moves on your windows desktop. Also need to make sure you are getting 4 beeps when you power on the super L II
Debbie: Good to know. Thank you
Gerry: Any other issues I can help you with before I sign off?
Debbie: I think it's working, Over the years I have installed this digitizer at least a half a dozen times, you made it very easy. Thank you for all of your help. We can sign off now
---
Date: Tue, 08 Mar 2011 13:43:24 -0800
To: [email protected]
From: B Lukovic
Subject: Re: Interworld Order

Hi Sharon,
USBee SX arrived on Friday as promised.
Thank you for the excellent service.

Regards
Borislav
---
To: [email protected]
From: Tim Baroody
Subject: technical support

Jerry,
Thank you for your assistance this afternoon with the problem I was having with my digitizer. Your quick diagnostic process, and with your expert knowledge of the product, my issue was resolved within minutes.

Of course, time is money, and you really helped me to remain productive, and be back on-line quickly.

Please feel free to use this letter as a reference, and feel free to contact me at anytime.
Again, thank you.
Sincerely,

Thomas N. (Tim) Baroody
Paul F. Vitale, Inc.
Auburn, New York 13021
USA
---
From: Andy Mosher
Subject: RE: SHIPMENT IS ON IT'S WAY OVERNIGHT!
12/7/10
Hi Sharon,
I just wanted to to thank the folks at Interworld for your prompt service. The data loggers were received on Friday and made it into our shipment for our test. Your quick action added a great deal of value to our upcoming test.
Very Best Regards,
Andy
---
From: Philippe Sciboz

Subject: RE: Pico TA041 Differential Probe



Dear Gerry,
Item received in perfect condition - Great price - Fast shipping - Good transaction -
Thank you Interworld !!!

Ph. Sciboz
Lausanne
(Switzerland)
---
Date: Thu, Jul 22, 2010 15:28:01 -0700
To: [email protected]
From: Joe Rosati
Subject: Thanks to Jerry

Jerry,
Thank you for your assistance in resetting my GTCO TabletWorks & digitizer. I was in the middle of a large project when I lost the ability to input data from the digitizer board.
Your knowledge of the system had me up & running in minutes.

Thank you,
Joe Rosati
T&M Equipment Corp.

From: Kurt Porsborg
Date: May 26, 2010 16:42:57 PDT
To:

[email protected]


Subject: Lifesaver



Garald

Thank you so much for sorting out my digitizer software problem.
I have battled this for the last three days, and you solved
it in under ten minutes.
To say that I am impressed does not begin to cover it.
Again my sincere thanks for your assistance.

Sincerely
Project Management and Estimating Services

Kurt Porsborg


---

Win a $10,000 shopping spree from Hotmail! Enter now Enter now
---
To: [email protected]
From: Bioptic
Subject: RE: Copy of Interworld Invoice




Dear Gerald,


Your services have impressed me from the start to the end and I wish to
express my appreciation to you and, in the process, thank you for your kind
assistance.

The Gemini apparatus that we ordered Tuesday arrived at our offices at noon today.

We look forward to doing business with you in the future. By the way, did

you send me anything on the accelerometer, the current monitoring, etc. as

per our conversation of yesterday?

Sincerely yours

Jean-Pierre Brunet, Eng. MBArn

President

Bioptic Vision Inc.
---
---
Testimonials