WPS600 Hydraulic Pressure Transducer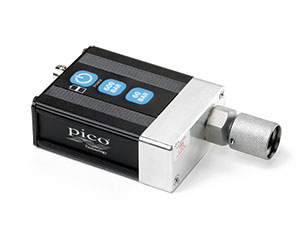 With high accuracy and a wide measuring range, the WPS600 Hydraulic Pressure Transducer connects to your PicoScope for convenient analysis and diagnosis of pressurised systems.
Accurately measure up to 600 bar (8700 psi)
Ultra-fast 100 microsecond response time (0% to 90% of full scale)
Internal rechargeable LiPo battery
Industry Standard M16 x 2 Test point connector
Auto zeroing
High noise immunity
Temperature compensated
Not for continuous operation
Low pressure alternative see WPS500
Buy the WPS600 [TA092] Online
Pressure ranges
Two pressure ranges for increased versatility
The two pressure ranges of the WPS600 allow accurate measurement and diagnosis of permanent and non-permanent automotive and industrial hydraulic systems.
Range 1
The first range, 0 to 600 bar (approximately 8700 psi) gives you high resolution and accuracy for high-pressure tests in hydraulic systems.
Range 2
The second range measures from 0 to 60 bar (approximately 870 psi). This range is ideal for low-pressure hydraulic systems and oil pumps.
Range
Pressure range
Accuracy
Response time
Output scaling
1
0 to 600 bar
0 to 8700 psi
1% of scale
100 µs
1 V/100 bar
1 V/1450 psi
2
0 to 60 bar
0 to 870 psi
1% of scale
100 µs
1 V/10 bar
1 V/145 psi
What's in the pack?
WPS600 pressure transducer
Carrying case
USB cable
BNC to BNC cable
User's Guide
Nothing compares to the WPS600
It is not unusual to require a different pressure transducer for each diagnostic test you want to run. The WPS600 eliminates this need by giving you one ultra-high resolution transducer that can be used for a multitude of hydraulic diagnostics applications. With two pressure ranges and a rechargeable Li-Po battery, all enclosed in a durable housing the WPS600 is the cost-effective answer to pressure analysis.
When price, performance and versatility matter, there is nothing that compares to the WPS600 Pressure Transducer.
Brochures & Manuals
Listed here are the brochures, data sheets and manuals for the WPS600 Hydraulic Pressure Transducer.
You will need a PDF reader such as Adobe Reader to view the PDF files.