USBee DX Mixed Signal Oscilloscope, Logic Analyzer and Bus Analyzer
The USBee DX Test Pod is a HUGE sample buffer PC and USB based programmable multifunction digital storage 2-channel oscilloscope, 16-channel logic analyzer, streaming bus protocol decoder and digital signal generator in a single compact and easy to use device. It is the ideal bench tool for engineers, hobbyists and students.

Decodes and Streams I2C, SPI, ASYNC, CAN, USB Low and Full Speed, I2S, 1-Wire, SM Bus, Parallel, Serial, and PS/2 bus data.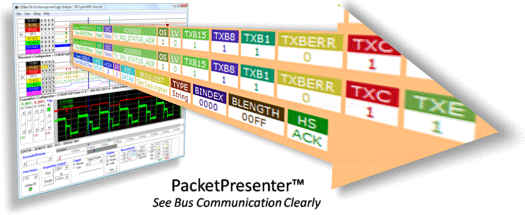 How it Works
Connecting to your PC, the USBee DX Test Pod uses the power and speed of the USB 2.0 bus to capture and control analog and digital information from your own hardware designs. The USBee DX takes advantage of already existing PC resources by streaming data over the High-Speed USB 2.0 bus to and from the PC. This allows the PC to perform all of the triggering and data storing and makes possible an affordable USBee DX, while pushing the sample storage capabilities orders of magnitudes beyond that of traditional dedicated oscilloscopes, logic analyzers or signal generators. The USBee DX Test Pod can utilize available PC memory as the sample buffer, allowing selectable sample depths from one to many hundreds of millions of samples.
The USBee DX also provides embedded bus protocol decoding and streaming for many of the common busses: SPI, ASYNC, CAN, USB, ASYNC, 1-Wire, Serial, Parallel, PS/2 and SMBus. The unique USBee DX system architecture allows the bus data to be extracted from a Logic Analyzer trace, or streamed continuously in real time using the Data Extractors to the screen or a data file for later evaluation. You can now capture the data your system is streaming to find those elusive bugs. And with the continuously streaming data you don't need to worry about how large a trace buffer you have. You can capture to disk all of the bus traffic, even if your test runs for days.
The USBee DX Packet Presenter™ displays the bus traffic that is being transmitted between ICs or system components in a graphical, easy to understand packet format that can be customized to your specific design. With standard logic analyzers, engineers have been accustomed to counting bits, manually decoding protocols, and parsing embedded bus traffic into useable fields. The Packet Presenter does this for you automatically. With the Packet Presenter, counting bits on a logic analyzer is a thing of the past.
The USBee DX Test Pod can capture and generate samples up to a maximum of 24 million samples per second depending on the PC configuration. The USBee DX Auto-Calibration feature automatically reduces the sample rate to ensure accurate and reliable timing, even on systems with slower processor and USB bus speeds.The USBee DX Test Pod perfectly merged features and functions to provide exactly the performance needed for hardware and microprocessor designs such as BASIC Stamp and PIC systems to ensure an affordable and compact unit.
The USBee DX Test Pod does not need an external power supply. The USB bus supplies the power to the pod, so your PC will be supplying the power. The Pod does, however, require a self powered hub (not bus powered) if a hub is used between the PC and Pod.
Features
The USBee DX is a high end configuration of testing features as shown in the following table.
USBee DX Test Pod

Bus Data Extractors

16 bi-directional digital and 2 analog channels provide all these functions in a tiny and easy to use device.
Continuously stream real-time bus traffic to the screen or a file. Supports SPI, Serial, I2C, I2S, Async, USB Full and Low Speed, SMBus, 1-Wire, Parallelor CAN busses.

Oscilloscope/Logic Analyzer

Bus Decoders

2A x 16D Mixed Signal Storage Oscilloscope and Logic Analyzer. Includes the Bus Decoders

Decode SPI, Serial, I2C, I2S, Async, USB Full and Low Speed, SMBus, 1-Wire, Parallel or CAN busses.

PacketPresenter

See bus data the way you visualize it.

Digital Signal Generator

Data Logger

Generate digital waveforms.

Log the state of the USBee signals.

Voltmeter

Frequency Counter

Measure analog voltages.

Measure the frequency of a USBee signal.

I2C Bus Controller

Frequency Generator

Create I2C scripts including detailed start, stop and ack positioning.

Generate a number of standard frequencies.

PWM Controller

Pulse Counter

Control independent PWM signals using scroll bars

Count edges of digital pulses.

Toolbuilder Source Code API

Remote Controller

Write your own Visual Basic or C tools that control the USBee. Includes full Logic Analyzer and Signal Generator functionality.

Toggle the state of a USBee digital signal with the push of a button.
PC System Requirements
The USBee DX Test Pod requires the following minimum PC features:
Windows® Vista, XP or Windows® 2000 operating system

Pentium or higher processor


One USB2.0 High Speed enabled port. It will not run on USB 1.1 Full Speed ports.

32MBytes of RAM

125MBytes of Hard disk space


Internet Access (for software updates and technical support)
Each Package Includes
The USBee DX contains the following in each package:
USBee DX Universal Serial Bus Pod

Set of 24 multicolored test leads and high performance miniature test clips

Getting Started Guide

USB Cable (A to Mini-B)

USBee DX Test Pod CD-ROM

Printed USBee DX Manual

All software applications listed above (in the Features section)
---