| | |
| --- | --- |
| Pico-I/O™ Data Acquisition Products | |
| | |
ACCES is now offering the OEM market specialized Pico-I/O boards for quick and easy I/O integration in both new and existing systems. Pico-ITXe is an open, multi-sourced standard based on the VIA-developed Pico-ITX form factor. Using the same 10cm x 7.2cm dimensions as Pico-ITX, the Pico-ITXe specification includes unique fixed mounting holes and specially designed SUMIT™ connectors to allow easy development of stackable, I/O-centric embedded devices using advanced serial bus technology (Pico-I/O).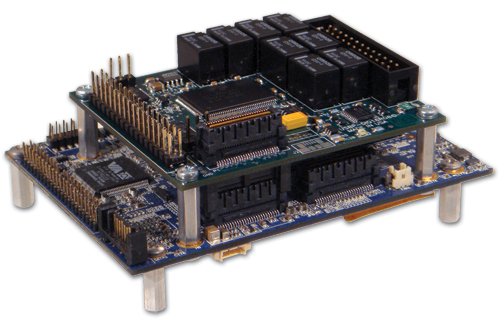 Add the features you need in your application in hours, not days. Choose from a variety of models and options (including extended temperature) encompassing analog I/O, digital I/O, counter/timer, and serial I/O configurations. If you don't see what you need, ask us and we will make it for you.
Our Pico-I/O product line features was created for our customers which demand the smallest footprint possible and certain specific I/O configurations. The size of these modules is exactly half that of PC/104 (72mm x 60mm) and can be mounted on all Pico-ITXe next generation embedded CPUs.
Our Pico-I/O modules are stackable or unstackable, making them one of the most versatile I/O form factors currently available. These boards are excellent for easy installation into OEM equipment and eliminate the labor required with traditional plug-in boards. Our USB OEM version (see USB/PICO) products are hot-swapable for quick connect or disconnect in mobile or stationary systems and all products features high-retention USB connectors manufactured for industrial environments.
Products based on the Pico-ITXe specification act as the perfect base board, taking advantage of an intelligent board layout that greatly aids both heat dissipation and stackability, all within a remarkably small footprint. The VIA processor platform compliments the Pico-ITXe specification, offering a diverse array of legacy and next generation features.
Using SUMIT (Stackable Unified Module Interconnect Technology) connectors to interface between base board and I/O expansion boards allows simple connection of PCI Express, LPC, SPI and USB 2.0 buses across as many as four stacked layers. SUMIT expansion technology is an open standard developed by the Small Form Factor SIG (SFF-SIG) to integrate high and low-speed legacy and serial expansion buses across multiple boards in a stacked configuration. The Small Form Factor Special Interest Group (SFF-SIG) is a new non-profit industry group that develops, promotes, and supports small form factor circuit board specifications and related technologies. For more information about the SFF-SIG please visit: www.sff-sig.org
The Pico-ITXe specification ensures the design of next generation embedded devices is simple, expedient and rational and will play a pivotal role in shaping the direction of the embedded market for years to come. The EPIA-P710 mainboard is the first product to market to use the Pico-ITXe specification. For information about the VIA EPIA-P710 please click the link below.
Pico-ITXe Mainboard Products
| | |
| --- | --- |
| Pico-ITXe MODELS | DESCRIPTION |
| EPIA-P710 | 1.0 GHz Pico-ITXe mainboard with stackable I/O - New Product! |