Log In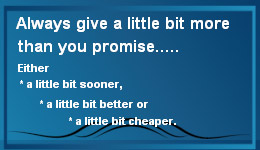 Follow us on Facebook for all the latest news, updates and promotions
Credit Cards Accepted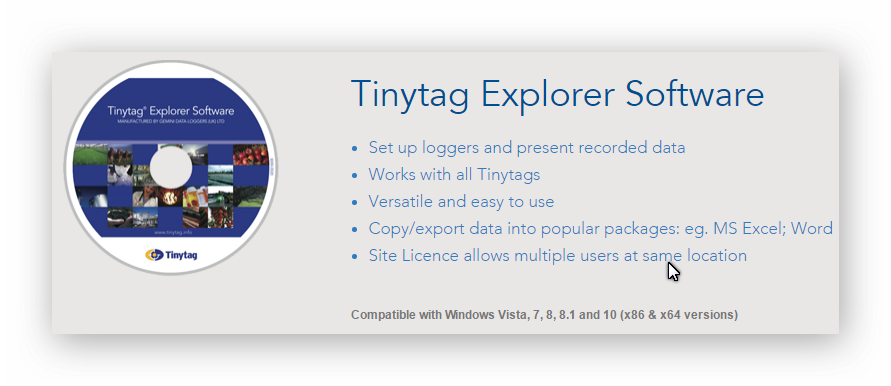 About Tinytag Explorer

Tinytag Explorer is the Windows program used to configure Tinytag loggers and view recorded data. During set up, logger names, logging intervals and alarm settings can easily be chosen. Recorded data can be shown as a graph, table of readings or summary information.

Tinytag Explorer Datasheet
Using Tinytag Explorer
All Tinytags use Tinytag Explorer software. The step-by-step launch page enables the selection of the logger's settings according to particular requirements. Offloaded information is initially presented as a graph, with simple navigation features for zooming and scrolling through data. Axes can be rescaled, notes added and unwanted data masked using a 'top and tail feature'.

Data is also available as a table of readings, summary information view, and daily minimum/maximum view. Data can easily be exported or copied and pasted into popular office packages. Information from multiple logging runs or multiple loggers can be combined into the same graph or table, using the comprehensive overlay features.
Tinytag Explorer Connect - an enhanced version of the software - provides advanced functionality and features. It is used with Ultra Radio, Plus Radio and Plus LAN loggers which send data from multiple monitoring points for remote access by any permitted user on a network. A viewing pane presents a global view of the system where multiple devices can be configured and downloaded simultaneously.
Features
Quick to get started, straightforward set up

Linked graph, readings and information views

Combine data from multiple loggers/runs

Bulk Offload Tool: offload/restart multiple loggers

Supports Txt, CSV, Excel, and XML export formats

Includes comprehensive illustrated help file
Sofware Packs
Tinytag Explorer is the data logging software needed to configure Tinytag data loggers and present the data. Our discounted Software Packs provide Tinytag Explorer data logging software with an appropriate offload cable/inductive pad. The Tinytag Explorer software is sold on a site licence, allowing unlimited users and multiple loggers on one site. You only need to buy an additional copy of this software if planning to use it at a different location

Find out more about Tinytag Explorer Connect.
Description

Order

Software Pack - SWPK-7-USB

Software pack: software & USB cable for Ultra, Plus, and View loggers

This discounted Software Pack for Ultra, Plus, and View loggers contains Tinytag Explorer, a USB cable and a Quick Start Guide. The software comes with a site licence allowing installation on multiple PCs at the same location. Existing Tinytag Explorer users need only purchase another copy if it is to be used at an alternative site. Additional software copies and connections may be bought individually.

Software Pack - SWPK-5-USB

Software pack: software & USB cable for Transit, Talk and CO2 loggers

This discounted Software Pack for Transit, Talk and CO2 loggers contains Tinytag Explorer, a USB cable and a Quick Start Guide. The software comes with a site licence allowing installation on multiple PCs at the same location. Existing Tinytag Explorer users need only purchase another copy if it is to be used at an alternative site. Additional software copies and connections may be bought individually.

Software Pack - SWPK-3-USB

Software pack: software & inductive pad for Aquatic, Splash and Transit loggers

This discounted Software Pack for Aquatic, Splash and Transit loggers contains Tinytag Explorer, an inductive pad and a Quick Start Guide. The software comes with a site licence allowing installation on multiple PCs at the same location. Existing Tinytag Explorer users need only purchase another copy if it is to be used at an alternative site. Additional software copies and connections may be bought individually.
Software Pack without conection: SWCD-0040
Tinytag Explorer software, with Quick Start Guide

Tinytag Explorer software is required for all our loggers and comes with a Quick Start Guide. The software comes with a site licence allowing installation on multiple PCs at the same location. Existing Tinytag Explorer users need only purchase additional copies if the software is to be used at alternative sites. The appropriate offload connections may also be bought individually.

Please note that the Tinytag Radio System will need the enhanced version of this software.
Software Pack
- SWCD-0080
Tinytag Explorer Connect software for Radio and LAN data loggers

Tinytag Explorer Connect software is required to use the Connect central data management feature of Ultra Radio, Plus Radio and LAN data loggers.

The software is sold on a site licence, allowing unlimited users on one site. You only need to buy an additional copy of this software if planning to use it at a different location.

CALL
FOR
PRICING