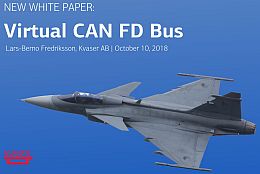 By using a Virtual CAN Bus, we separate the control task from other tasks. The distributed embedded control system can be developed using standard CAN Controllers and transceivers in a traditional way with well proven tools.

Other tasks such as encryption, transmitter authentication, re-flashing, etc. can be developed by experts in these fields and carried out by using other protocols. With modern technology, the different tasks can run in parallel and simultaneously communicate on the same physical layer.

It is a great advantage to separate the control problems from other problems. The control problem can be solved once and for all by the control experts and other problems by experts in their respective technology fields.