NVH and propshaft balancing

The PicoDiagnostics NVH kits from Pico Technology are the cost-effective answer to the many NVH problems facing technicians today. The software provides a real-time diagnosis to the technician, in the form of either: a bar graph, a frequency chart, a 3D frequency chart, RPM order, road speed view or a time domain view. The ability to start the recording before a road test and playback and analyze the recording back in the shop, ensures that the driver's attention remains on the road. Saving the recordings couldn't be easier: Much like our other automotive software, you can simply save the file to your laptop's hard drive.

The PicoDiagnostics NVH kits make use of the PicoScope Automotive oscilloscopes and are available in a number of configurations to suit your needs. You can be sure that your investment in the PicoDiagnostics NVH kit will benefit your business without the need for further spending. If you already have a PicoScope Automotive oscilloscope, you're halfway there.

If you don't have a PicoScope Automotive oscilloscope, but you wish to use an NVH kit, you can invest in one of our Essentials kits and receive your choice of NVH Diagnostics kit complete with a 4 channel Automotive oscilloscope in a dedicated hard carry case.[VW Golf NVH diagnostics]VW Golf vibration caused by broken suspension coil spring.

Typical uses

Customer complaints surrounding noise/vibration are subjective at best and present technicians with a challenge even before they can begin diagnosing and rectifying. By applying an NVH kit to the vehicle, the technician has the ability to road-test the vehicle with the customer to obtain all vibration and noise levels. Once this valuable data has been collected, it can be analyzed and compared to previous captures or against donor vehicles. Often what is perceived by the customer to be a "problem vibration" could, in fact, be a characteristic. Now you can present and compare objective data with test results from donor vehicles to reassure your customer that everything is normal. Alternatively, comparing data may highlight a problem with the vehicle and the measurements taken can give the technician the information needed to confidently proceed with a repair. Below are just a few of the typical scenarios where an NVH kit can save you time and money:

Scott Brown, President of IATN uses a Pico NVH kit to
identify a vibration in a Chevrolet S10.
Cabin vibrations at speed

Engine vibrations throughout the entire RPM range

Clutch judder or vibration

Transmission and bearing whine

Auxiliary drive noise

Brake judder

Steering vibrations
NVH problems


The root of all NVH problems is a vibration. In some cases, these are unwanted or unexpected vibrations, and in other cases, they are normal and always present (e.g. engine combustion), but they are noticeably disturbing when transmitted to the passenger compartment.

Sound is simply a vibration that is transmitted through the air (or another medium) and is heard when it reaches a person's ear. Although the perfect hearing range is 20 Hz to 20 kHz, most of us are more like 100 Hz to 15 kHz at best. Vibrations are usually felt at frequencies below 200 Hz, and in the overlapping frequency, range vibrations can be both felt and heard.

In order to deal with this frequency range effectively, our PicoDiagnostics NVH kits contain both microphones (for sound), and accelerometers (for vibrations).

Traditionally, NVH problems have been viewed as difficult to solve, with NVH complaints being subjective as people have different levels of NVH acceptance or feeling. A technician needs the right tools and procedures to be able to tackle these issues effectively, to diagnose complaints in an objective, repeatable and easy manner. The PicoDiagnostics NVH kits do this, while also generating customer reports to show that an improvement has been made against the customer's complaint.
---
Kit contents

Although the NVH kits are available in different configurations, they differ only in the number of parts supplied. In each case, a BNC cable connects the interface box to your Automotive PicoScope and a USB cable connects your PicoScope to the PC or laptop on which you run the PicoDiagnostics software. A separate J2534 Scan tool (see below) or VCI (not supplied) can be used to provide RPM data or an electrical signal that can be used for RPM.
Starter, Standard or Advanced

The Starter NVH Kit will allow you to measure vibrations on 3 axes, (X, Y and Z). The Standard NVH Kit gives you the option to also measure vibration or sound on a single axis at an additional location on the vehicle. The Advanced Kit gives you the option to measure vibration or sound at four different locations on the vehicle. The Starter to Standard Upgrade Kit gives you an extra set of all the kit items.

All kits are available in a carry case or foam tray. The foam trays enable users to store their NVH Diagnostics kits safely in a tool chest of their own choosing.




NVH Essentials kits

If you want to use a Pico NVH kit but do not own a PicoScope already, you can now purchase an NVH Essentials kit. These are the equivalent to the basic NVH kits but with an automotive PicoScope included.
Accessories
Mongoose Pro ISO/CAN J2534 lead (TA293)

Having used the Mongoose Pro alongside Pico products for some time, we are confident it is the best and most reliable product to use with our NVH kit for the acquisition of a road speed signal.
Optical balancing kit (PP991)

The purchase of our Optical Balancing kit allows on-vehicle balancing in order to rectify first order shaft vibrations. Included as part of our PicoDiagnostics software, the Propshaft balancing test provides clear advice and guides you through analysis and test procedures:

• Support for pinion flange, single weight, and hose clamp balancing weights

• Step-by-step procedures with help and graphical displays[NVH Assist screenshot]
---
Setup wizard and software help

The Pico NVH test has a set of wizards to guide you through the necessary connections and the vehicle data that will generate information and results in a format that is easy to understand.

The system detects vibrations (and sounds) that change (wheel, engine, propshaft etc.) but also fixed frequency vibrations (e.g. electric cooling fan). Results are displayed in a report that is easy to understand and can be viewed in the way that suits you.

Comprehensive help files explain likely causes and solutions, and the functions provided by the software make it easy to diagnose the problems in a logical way to reveal the root cause. The same system will also give you the ability to measure the effectiveness of any repairs or modifications and demonstrate the results to the customer.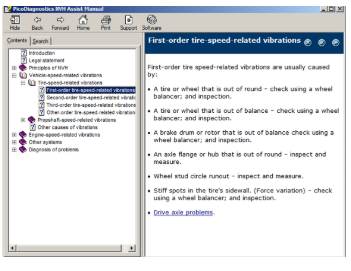 ---
Licensing

Each NVH kit requires a software license to allow the use of the PicoDiagnostics NVH application with a single PicoScope oscilloscope.

Unless the PicoScope is already licensed, the first time you attempt to run the PicoDiagnostics NVH application you will be asked for a license code. To obtain your license code please contact Pico at support@picoauto.com and include both the serial number of your PicoScope and of your NVH interface. Once we have received this information we will be able to supply you with an unlock code.

Once unlocked the license code will be stored on the scope hardware so that in the future you can access the PicoDiagnostics NVH application with that scope as required.
Balancing propshafts with PicoDiagnostics NVH kit
Optical Sensor Kit contents

The PicoDiagnostics NVH kits can also support balancing of rotating components when you use the optional Optical Sensor kit with it.

The NVH kits can reveal problems with vibrations that are related to engine speed (RPM), propshaft speed, road speed or other unrelated frequencies. With the example of a propshaft-related vibration, it can be a lot faster and cheaper to rebalance the propshaft than to replace it.

The balancing kit contains a high-quality optical sensor with an interface to connect it to your PicoScope, and a robust magnetic mount to ensure that the optical sensor can be held in the correct position. Again, the software wizards in PicoDiagnostics will guide you through every step of the process.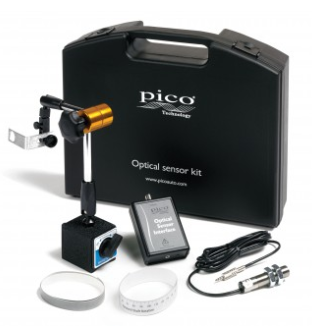 ---
Methods

The Balancing software supports different methods such as the use of pinion flanges (adding weights to existing holes in the flange), and hose clamps (clamping weights to the shaft using jubilee clips). In each case, the system provides complete guidance and direct instructions on both the weight and location to balance the shaft.

Together with an NVH kit, this system brings the technician a level of capability previously only available in the vehicle manufacturer's factory or expensive and dedicated repair facilities. All of this is supported by our ongoing software updates, which will continue to improve the system long after an initial purchase.