Log In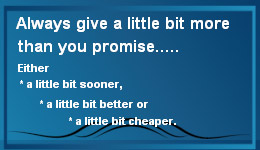 CAN Test Box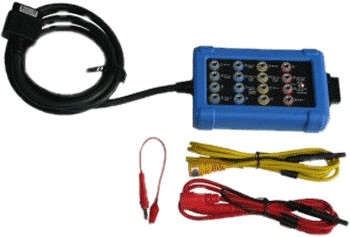 Continuing with our mission to make vehicle diagnostics easier and faster…the new CAN Test Box gives you easy access to the 16 pins of the diagnostic connector that is fitted to all modern vehicles. Depending on the configuration of the vehicle, this may allow you to check power, ground and CAN Bus signal quality. With the test leads supplied you can connect your PicoScope lab scope to the CAN Test Box to monitor signals such as the CAN High and Low. More.....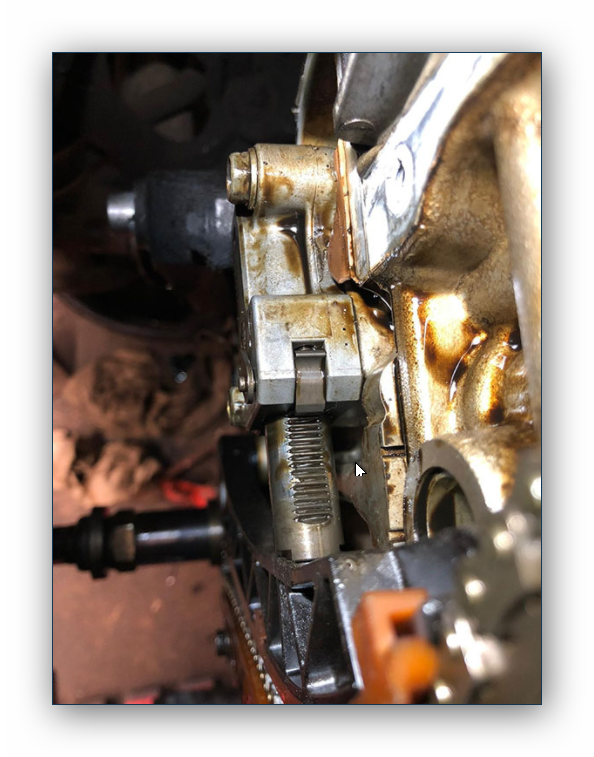 We have just posted a few new Automotive Tutorials and Case studies Here is the latest:
Honda Rattle
Credit Cards Accepted
Aurora Probability in Northern Canada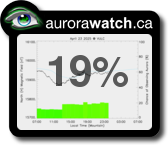 North America Aurora Map from
NOAA Space Weather Prediction Center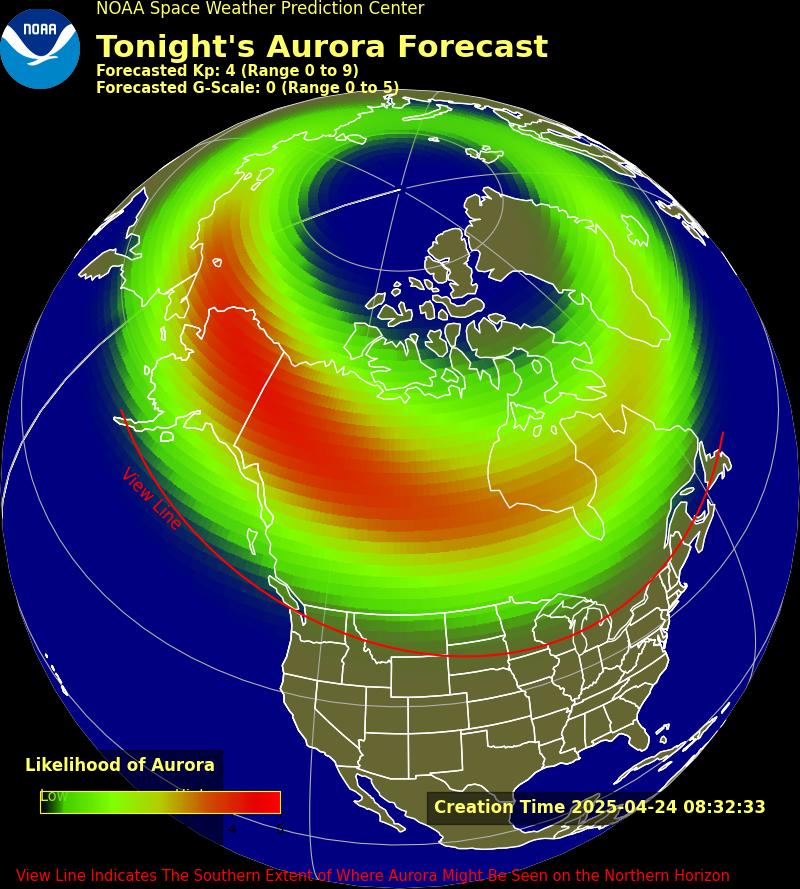 | | |
| --- | --- |
| PicoScope Automotive Software | |
| | |
PicoDiagnostics is a complete engine health check. With just a simple connection to the battery you can perform a cylinder balance test, detect misfires, carry out a compression test and test batteries, starter motors and alternators. The results are displayed in a bargraph that can easily be understood by both you and your customer.
PicoDiagnostics is a standalone software package that is included with PicoScope Automotive. With PicoDiagnostics you can quickly check the health of most petrol and diesel engines. There's no complicated procedures — simply connect one channel of your oscilloscope to the battery of the vehicle to be tested, run PicoDiagnostics, select your test and click a button.
Once PicoDiagnostics has completed the test, the results are displayed in a bar graph that makes it easy for anybody to understand. Using this report printing feature you can then produce a professional quality report suitable for presenting to customers.
Waveform Library
PicoScope Automotive now includes a fantastic feature that allows the Pico Community to benefit from each other's experience. The Waveform Library Browser enables you to search a global data base of waveforms uploaded by PicoScope users from around the world.
Phase Rulers
Phase rulers (called rotation rulers in PicoScope Automotive) help to measure the timing of a cyclic waveform on a scope view. Instead of measuring relative to the trigger point, as time rulers do, phase rulers measure relative to the start and end of a time interval that you specify. Measurements may be shown in degrees, percent or a custom unit as selected by the Ruler settings box.
A new level of performance
PicoScope Automotive diagnostic software offers a new level of performance: along with faster data processing and improved support for the latest USB Diagnostic Oscilloscopes, faster capture rates make it easier for you to see fast-moving signals.
Never miss that elusive problem waveform
No more having to stop the scope as soon as you notice a fault: the waveform buffer in PicoScope Automotive can hold multiple waveforms in memory, allowing you to stop the scope and then review up to 10,000 previously captured waveforms.
Control capture rates
PicoScope Automotive allows you to reduce the number of data frames per second that your scope captures. This can help to conserve valuable power when your laptop is running on batteries.
Professional printouts
With both colour and black and white printing modes, printed waveforms look professional — making them easy to work with and ideal for showing to your customers.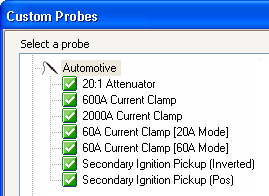 Custom Probes
With PicoScope Automotive software there is no need to create a custom range every time you want to add a new probe or sensor. The Custom Probes feature lets you quickly add a new probe or sensor with an easy–to–use wizard.
Powerful features
Version 6 of PicoScope Automotive includes smarter and more powerful features than previous versions. As well as the ones described above, other features include:
Multiple views of the same data, with individual zoom, pan and filter settings for each view
Organise the data views however you want with the power of drag–and–drop
Zoom–in to a point of interest quickly with the intuitive point–and–click zoom controls
Specify a delay between the trigger and start of the capture directly in units of time
Good looks. Good design.
We all know that no matter how good software looks and how many features it has, it's useless if it isn't easy to use. We listened to what you — the users — told us and designed PicoScope Automotive to both look good and be as easy to use as possible:
Draggable rulers make it easier to move traces apart.
Clear graphics and text together with the ability to enlarge font sizes on measurements means that the screen is easier to read — even from a distance.
Tooltips appear when you hover your mouse over a control, making it easy to understand what everything does.
Point–and–click tools make panning and zooming quick and easy.
User–configurable toolbars let you position the controls where you want them.
The fast and easy way to diagnose faults
Using PicoScope Automotive is both fast and easy. Simply select the sensor or circuit to be tested and the software will automatically load the required settings and give you full details of how to connect the scope, along with advice on what the waveform should look like and general technical information on the component/system being tested.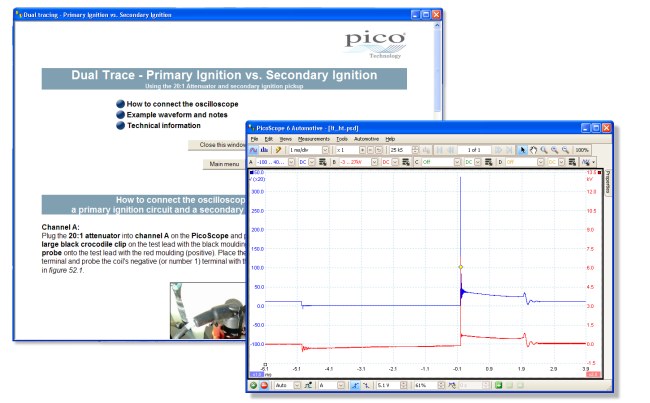 PicoScope Automotive diagnostic software includes over 127 different reference topics on vehicle components and systems, and there's nothing to stop you from adding topics for your own specific vehicle tests.
Language support
The table below shows the languages currently supported in PicoScope Automotive.
PicoScope Automotive Language Support
Full support
English, Français, Deutsch, Italiano, Español
Menus and dialogs only
(user manuals and help files will be installed in English)
中文 (简体), 中文 (繁體), ÄŒeština, Dansk, suomi, Ελληνικά, Magyar, 한국어, 日本語, Norsk, Polski, Português, română, Русский, Svenska, Türkçe
Cylinder Balance Test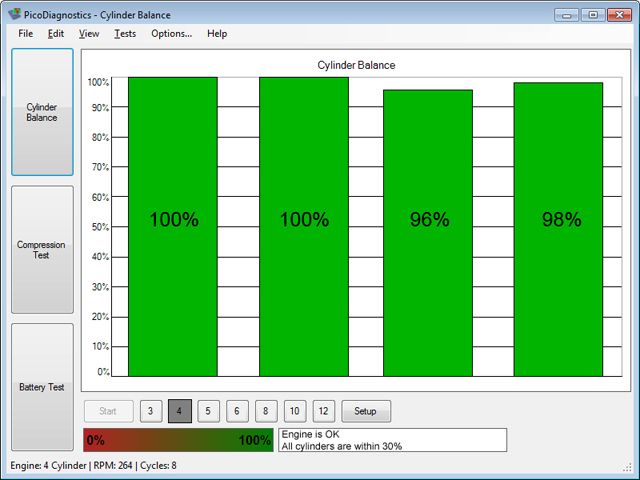 Figure 1
The cylinder balance measures how much each cylinder is contributing to the engine's total power output. Performing a cylinder test using PicoDiagnostics is as simple as 1,2,3:
Connect channel 'A' of your oscilloscope to the battery of the vehicle being tested.
Start the engine.
Load PicoDiagnostics, select the cylinder balance test and click start.
Once the test is finished, the software will analyse the data and the results will be displayed in a bar graph as shown in Figure 1. In normal use, to save time, the software does not identify which cylinder is which as you only need this information if a problem is detected.
Figure 2 shows a vehicle that has a drop in power. From the graph it is clear to see that one cylinder is continually giving less power. By clicking the right mouse button we can also display the variation, misfire and signal. The misfire option shows that no misfires have been detected, this suggests either a fueling problem such as a blocked injector or a mechanical problem such as poor compression.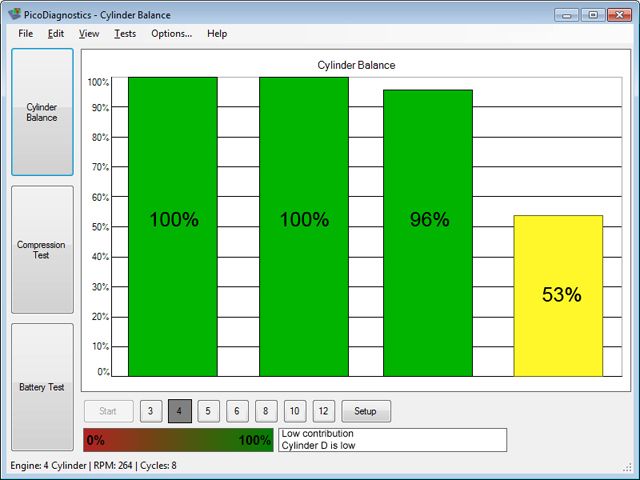 Figure 2
Figure 3 shows a vehicle that has one cylinder that is giving less power than the others. Here the fault is caused by a misfire problem which is shown as a red bar on the graph.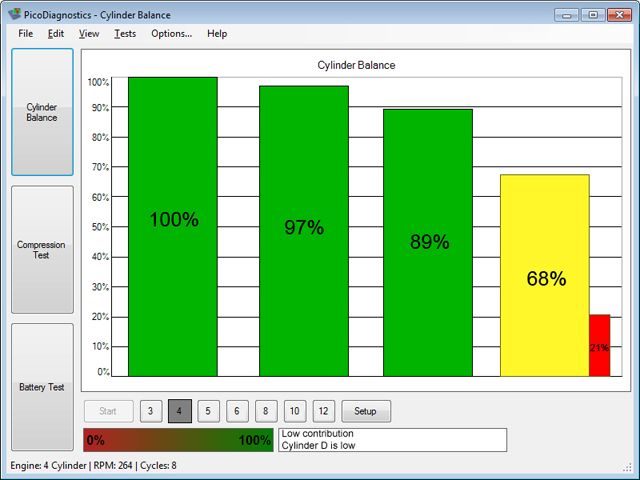 Figure 3
Quick and Easy to Use, With Many Applications
PicoDiagnostics is so quick and easy to use that it can be used for many applications. Just some of the applications for PicoDiagnostics include:
Fault diagnosis in the workshop and for breakdown recovery services. If a vehicle has an obvious engine fault, this software can help to quickly narrow down the cause. It makes an ideal companion to PicoScope Automotive software which can then be used to test the individual components to complete the diagnosis.
Engine health check. As PicoDiagnostics is so quick and easy to use, it's worth running on every vehicle that comes through the workshop even if they have no obvious faults, or have just come in for a service or new tyres. The software prints out a report on the condition of the engine which can be given to the customer either confirming the good running of the engine or showing that further investigation/work is required.
Preventative maintainance for fleets of vehicles. Whether you run a fleet of commercial vehicles or rent out vehicles, performing a quick health check on the engine on a regular basis can help spot the early signs of developing problems. This can help avoid costly breakdowns in the field.
Pre-purchase inspection. If you regularly purchase vehicles or perform checks on vehicles for customers prior to purchase then PicoDiagnostics is ideal. Within a few minutes you can perform an engine health check and print off a report for the customer.
Compression Test
The compression test will quickly tell you what condition the engine is in. Like the cylinder balance test, the compression test can be completed in just a few simple steps:
Connect one channel of your oscilloscope to the battery of the vehicle being tested.
Disable the engine.
Load PicoDiagnostics, select the compression test and click start.
Crank the engine when directed by the software.
Once the test is finished, the software will analyse the data and the results will be displayed in a bar graph. Figure 4 shows a vehicle with good compression on all cylinders.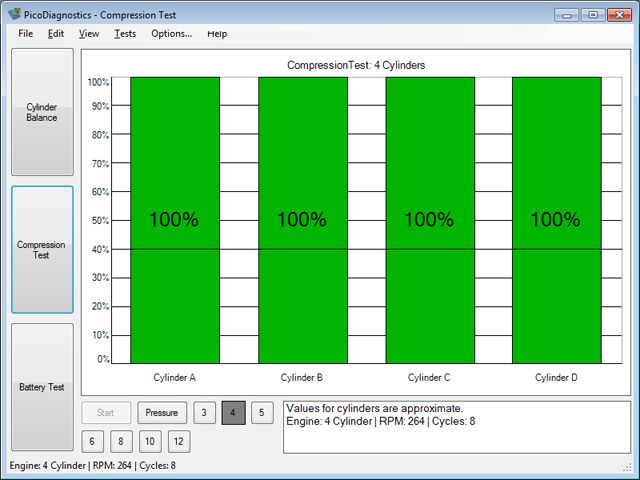 Figure 4
Figure 5 shows a vehicle with a compression problem on one of the cylinders. Once PicoDiagnostics has detected a low cylinder a manual compression test should be run to verify the results and to find the specific cylinder which is low.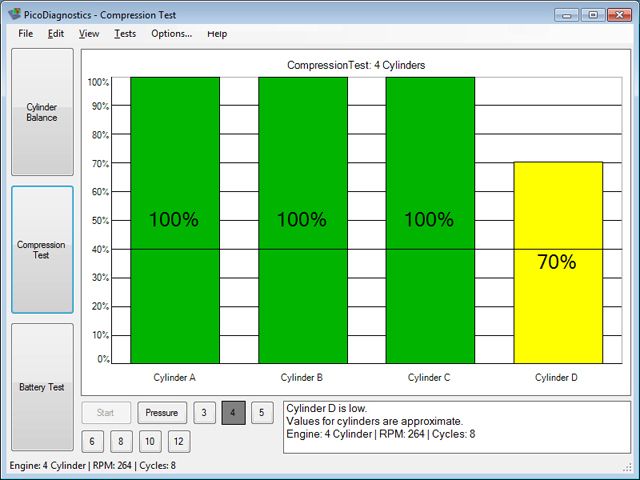 Figure 5
Battery Test
The battery test measures the battery voltage and current during cranking and startup of an engine. From these signals the test calculates some key parameters which can be used to detect faults.
To use the battery test, start PicoDiagnostics and load the test using the Tests menu. Follow the instructions below to connect your Automotive Oscilloscope to the vehicle and run the test.
Connect Channel 'A' of your oscilloscope to the battery of the vehicle being tested.
Connect the 600 A current clamp to Channel 'B' and clamp it around the battery lead.
Load PicoDiagnostics, select the battery test and click start.
Start the engine and let it run for 10 seconds.
Once the test is finished, the software will analyse the data and calculate some key parameters of your electrical system. The results will be displayed in the list under the signal.
PicoDiagnostics NVH Kit
The PicoDiagnostics® NVH Kit provides a breakthrough in accurate analysis of vehicle noise, vibration and harshness problems. Using the large display of your existing laptop, this system combines lightning-fast capture and analysis of vehicle data with clear easy-to-read presentation of results and actions. It offers everything you ever wanted in an NVH tool, harnessing the power of your laptop to provide massively improved performance, flexibility and sharing of information.
The NVH kit works with PicoScope® - the world's most popular automotive oscilloscope. This has been engineered to improve efficiency within the workshop by allowing you to directly check sensors, actuators, systems and wiring. With special functions to help in capturing and diagnosing intermittent and performance problems, PicoScope allows you to do much more than just test wiring, components, noise and vibrations.

Overview
The PicoDiagnostics NVH Kit from Pico Technology is the cost-effective answer to the many NVH problems facing technicians today. It provides real-time diagnosis in the form of either: a bar graph, a frequency chart, a 3D frequency chart, RPM order or road speed view. The ability to start the recording before a road test, and play back the recording for analysis on your return, ensures that driver attention remains on the road. Saving the recordings couldn't be simpler: like our other automotive software you simply save the file to your laptop's hard drive.
The PicoDiagnostics NVH kit makes use of the PicoScope 4000 Series Automotive oscilloscope, and comes with all you need to get started. You can be sure that this investment will benefit your business without the need for further spending as software updates are free for life.