Log In

Follow us on Facebook for all the latest news, updates and promotions
Credit Cards Accepted
Press Release:

PicoScope 4823 8-Channel Automotive Oscilloscope
Launching July 1st, 2019!!!
CONTACT US TO PRE-ORDER!
The 4823 is the world's first high-speed, high-resolution, 8-channel automotive oscilloscope, and is fast enough for CAN, CAN FD, and FlexRay including serial data decoding. It is ready-configured for automotive probes and includes more than 150 Guided tests, plus access to thousands of comparisons in the Pico waveform library which now supports 8 channels.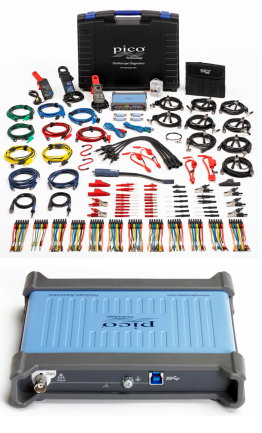 The 4823 offers 8 channels, but these are connected in a common-ground configuration (rather than offering the floating inputs of the 4225/4425), and the maximum input range is only 50V (they are protected to 100V). The sample rate is also lower than the 4425 and has a maximum rate of 80MS/s (10MS/s if using all 8 channels). The other specifications are what you would expect from a deep-memory PicoScope, with 12-bit resolution, 20 MHz bandwidth, a 256 MS buffer memory, and SuperSpeed USB 3.0 interface.



Why should you buy a PicoScope 4823?

PicoScope is used and trusted by more authorised and independent repairers than any other measurement system because it gives them the capability, confidence and support to quickly find and prove the fix for most vehicle faults. When you buy a PicoScope, you benefit from more than 25 years investment in the world's best diagnostic oscilloscopes.

The PicoScope 4823 is simply the best 8-channel diagnostic oscilloscope for vehicle and equipment technicians, offering unrivalled performance for the same amount as equipment that leaves you stuck or frustrated by the limitations. The Pico community and resources are there for you every step of the way with a PicoScope diagnostic oscilloscope.

It will be available as a scope-only (PQ185) option, or will also be offering a single kit (the PicoScope 4823 8-channel Professional Kit - PQ184), for those who do not already have an automotive PicoScope and accessories. The only case that has a foam inlay to suit the 4823 is the large, heavy duty case used in the Master Kit.
See Kit Contents >>>>
---
FAQ's

Q: Why has Pico created an 8-channel PicoScope?

A: They have both aftermarket and VM demand for 6 and more channels for example:
V6/V8 Cam timing (4/6 cams plus crank, and sometimes a WPS), and VVT timing systems.

Trucks, construction and agriculture equipment where technicians require a mix of electrical and hydraulic measurements on multiple valves simultaneously to diagnose problems with system interaction.

Full system diagnosis on components (including power, ground, signals, current)

General engine diagnostics
Q: Why has Pico just released this product when the 4824 has been available for years?

A: Pico had an issue with limited component supplies that were only sufficient to meet the needs of our 4824 demand. They have now resolved that issue with an updated design for 4824 and can now offer a 4823 device. They chose to make the minimum necessary changes to the 4824 in order to provide an 8-channel PicoScope that is suitable for the needs of vehicle and equipment technicians.

Q: Why hasn't Pico created a protective rubber boot for the 4823?

A: There is a long lead-time, and significant minimum quantity, on the rubber boots. Pico has prioritised time to market in order to start satisfying the customer demand now. Additionally, they wanted to establish the 4823 and have that clearly positioned and understood before they introduce further new products later this year.

Q: Will Pico offer some new coloured test leads for the extra channels?

A: Again, there are lead-time and minimum quantity requirements for new coloured leads. Pico may introduce these if there is an overwhelming demand, but do not presently think these are required (although they are desirable). Instead, they are providing a pack of coloured labels with each 4823 that will allow technicians to 'flag' each end of the lead to avoid confusion.

Q: Why doesn't this scope offer the floating 200V inputs of the 4225 and 4425?
A: The power requirements and design of the 4425 mean that Pico could not just scale that up to 8-channels and still remain on USB-only power. Additionally, the number of developments underway and scheduled within Pico meant that they would have to wait a very long time before they would have any possibility for an 8-channel device. Therefore Pico took the opportunity to offer the 4823 based on minimum changes from the 4824. That did mean some compromises (common ground, lower input voltage and sample rate, lack of ConnectDetect™ and hardware filter), but allows Pico to better understand the demand and applications while providing the benefit of PicoScope to those customers who simply have to have 8 channels.
Q: Will there be any upgrade available from other models for customers wanting the 4823?

A: No – if there are some special cases, please discuss this with us and we will consider the situation.

Q: Pico mentioned new products later this year; does that mean the 4823 will soon be obsolete?

A: No – Pico has no plans for another 8-channel automotive PicoScope any time soon. They do have some exciting products in development, but they are aimed at the general workshop requirements rather than specialist applications.


CONTACT US TO PRE-ORDER!
Launching July 1st, 2019!!!