| | |
| --- | --- |
| Your Ideal Automotive Diagnostic Tool | |
| | |
Vehicle electronics continue to get more complex.
Does this make it harder for you to find faults?
With a PicoScope it doesn't have to…
A PicoScope is a PC based automotive oscilloscope (sometimes known as a labscope). It turns your laptop or desktop into a powerful diagnostic tool, showing you what is really going on with a vehicle's electronic circuits. Think of a PicoScope as the "X-ray machine of diagnostics", giving you the ability to see the inner workings of your vehicle's wiring.
You can purchase a PicoScope automotive oscilloscope on its own, but most people purchase one of our award winning Automotive Diagnostics Kits. These money saving kits contain everything you need – just add a PC.
Suitable for use with any modern vehicle

The Pico Automotive Diagnostics Kits can be used to measure and test virtually all of the electrical and electronic components and circuits in any modern vehicle including:
Ignition (primary and secondary)
Injectors and fuel pumps
Starter and charging circuits
Batteries, alternators and starter motors
Lambda, Airflow, knock and MAP sensors
Glow plugs / timer relays
CAN bus, LIN bus and FlexRay
Future-proof
Unlike a serial diagnostic tool, a PicoScope can work on any make or model whether Petrol, Diesel, Electric or Hybrid. It is equally at home when used with passenger or commercial vehicles.
Pico Technology is the market leader with over 20 years' experience designing PC based oscilloscopes. Unlike many competing products the PicoScope automotive oscilloscopes have been designed from scratch with automotive use in mind. They offer an unrivalled blend of resolution, memory depth, sampling rate, bandwidth and software features. Fast and complex signals such as CAN bus and FlexRay are not a problem, ensuring your PicoScope will perform for many years to come.
"Great diagnostic tool, accurate,
user-friendly and affordable"
—PMM magazine

Easy to use, chosen by professionals
This powerful and flexible automotive diagnostic tool has been designed for ease of use so is equally suitable for first time oscilloscope users and experts alike.
The kit is ideal for a wide range of users including franchised and non-franchised garages, breakdown/roadside recovery organisations, mobile tuning/repair services, motorsport and automotive R&D.
Power for the PicoScope comes from the USB port of the PC so no batteries or power leads are required, making it suitable for use both for workshop-based and mobile automotive diagnostics.
Pico Automotive Diagnostics Kits are already used as a dealer level tool for more major vehicle manufacturers than any other oscilloscope.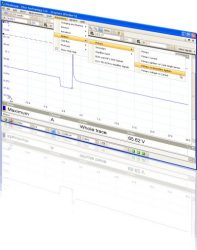 Powerful automotive software
Included in all of our kits is the powerful PicoScope automotive diagnostic software. Using PicoScope Automotive is both fast and easy. Simply select the sensor or circuit to be tested and the software will automatically load the required settings and give you details of how to connect the scope, along with advice on what the waveform should look like and general technical information on the component being tested.
Once you have a PicoScope Automotive scope you can also make use of PicoDiagnostics. PicoDiagnostics is a complete engine health check. With just a simple connection to the battery you can perform a cylinder balance test, detect misfires and carry out a compression test. Also included in our PicoDiagnostics software is a fully featured electrical system test to check the battery, starter motor and alternator. The results are displayed in a bar graph that can easily be understood by you (and your customer!).
All Pico automotive software is free. There are no licence fees or annual subscriptions, and updates can always be downloaded for free too.
"Greatest tool in the workshop. This tool is worth far more than it costs and I highly recomend it and wish I'd known about it three years ago."
—
Nigel Tilley, Aussie Tune Australia
Incredible value for money
Pico Automotive Diagnostic Kits work on all makes and models of vehicles. Our free-of-charge software updates make the kit an even more powerful and cost-effective automotive diagnostic tool.
To meet the budgets and needs of all users, Pico automotive kits are available in both 4–channel and 2–channel versions. A Diesel Diagnostics Kit is also available for the testing of diesel vehicles.