This section details the operation of the Pulse Width Modulator application that comes with the USBee ZX. The Pulse Width Modulator application creates a Pulse Width Modulated output for all of the 8 digital lines on the USBee ZX.
Below you see the application screen.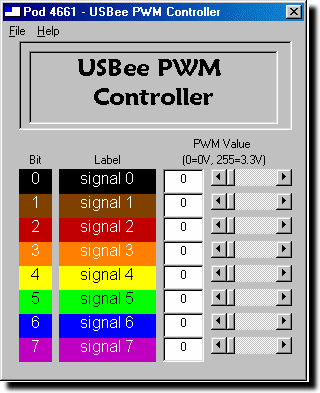 Each channel outputs a repeating waveform with a 1.46kHz frequency. The period of the repeating waveform is made up of a high duration followed by a low duration and has 256 steps. The length of the High duration is the PWM value that is shown. The length of the Low duration is 256 - the High duration.
You can create a simple analog output voltage by using a series resistor and a capacitor to ground on each channel.
The above shows 2 outputs of the PWM Controller. Signal 0 shows the PWM value set to 31 (out of 255) and Signal 1 shows the PWM value of 137. A value of 0 is all low, and a value of 255 is mostly high (one out of 256 is low).
| | |
| --- | --- |
| Digital Channels Controlled | 8 |
| Analog Channels Controlled | 0 |
| Resolution | 256 steps |
| PWM Frequency | 1.46kHz |
| Control Mechanism | Slider Switch |
| Channel Output DriveCurrent | 4mA |
| Output Low Level | < 0.8V |
| Output High Level | > 2.4V |