Beautifully Simple
Easy to use Logic Analyzer / Oscilloscope

The USBee Suite is powerful electronic signal analysis software for your USBee Test Pod. It starts out as an easy to use Logic Analyzer and Oscilloscope and adds serial bus decoding and world class configurability that lets you solve your electronic problems quickly! Some of the serial busses that are decoded include: I2C, SPI, Async, USB, CAN, 1-Wire, PS/2, SMBus, I2S, Sync Serial and even your own Custom Busses.

World-Class User Interface

You look at a Logic Analyzer / Oscilloscope for extended lengths of time. Why don't you make sure you can enjoy it at the same time? The USBee Suite software lets you choose the look and feel of the interface and saves that information for when you come back to it again.

Best of all the USBee Suite Standard is Free!

The USBee Suite Standard is a free download and will run in Demo mode without a USBee, or on any USBee SX, USBee ZX, USBee AX-Standard, USBee AX-Plus, USBee AX-Pro, USBee DX or BusBee Test Pod. So take it for a spin. If it has been a while since you've used your USBee, pull it out of your pocket and experience the power of the USBee Suite.

Upgrade to the USBee Suite Pro for State-of-the-Art Debugging Features!

The USBee Suite Pro builds upon the rich features set of the Standard version and adds high powered capabilities such as Complex Event Searching, PacketPresenter custom packet decoder, Smart Markers, enhanced PacketPresenter API for developers, annotation capabilites, enhanced acquisition control for repeated measurements, display control, analog channel scaling, analog bus decoding, and enhanced file importing and exporting.
USBee Suite Supported Pods and Features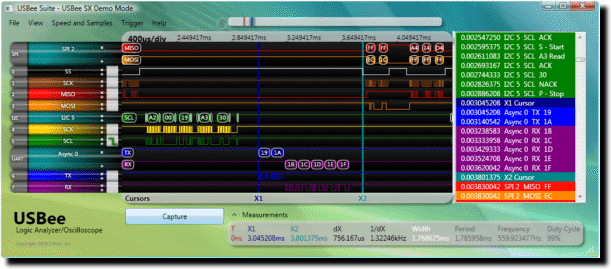 USBee SX features shown above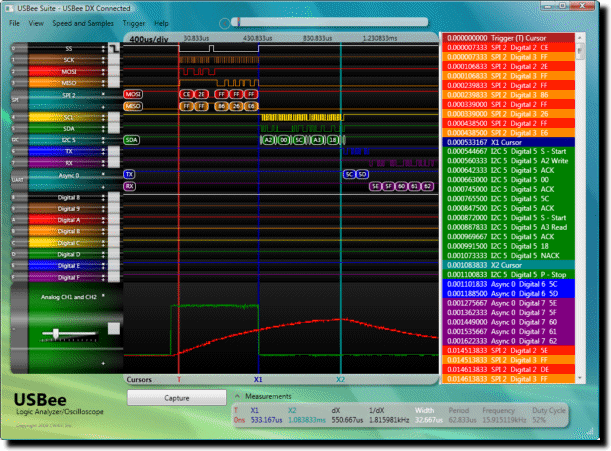 USBee DX Features shown above
Here are the bus protocols and features that are supported on each of the USBee models. All USBee Suite Standard features are also available on the USBee Suite Pro.
| | | | | | |
| --- | --- | --- | --- | --- | --- |
| | BusBee | USBee SX | USBee ZX | USBee AX | USBee DX |
| Oscilloscope channels | | | | 1 | 2 |
| Logic Analyzer channels | 4 | 8 | 8 | 8 | 16 |
| In-line protocol decoding | | | | | |
| USB Decoder | | | | | |
| I2C Decoder | | | | | |
| SPI Decoder | | | | | |
| Async Decoder | | | | | |
| 1-Wire Decoder | | | | | |
| CAN Decoder | | | | | |
| I2S Decoder | | | | | |
| SM Bus Decoder | | | | | |
| PS/2 Decoder | | | | | |
| Syncronous Serial Decoder | | | | | |
| Parallel Decoder | | | | | |
| NEC IR Remote Decoder (via custom decoder) | | | | | |
| Custom Decoder development kit for creating your own decoder | | | | | |
BusBee

USBee SX

USBee ZX

USBee AX

USBee DX

USBee Suite PacketPresenter
Enhanced Protocol Decoder

Smart Search to pinpoint your problems fast

Smart Markers for easy measurements and navigation

Annotations using Titles and Sticky Notes

Enhanced Acquisition Control (Run, Single, Normal, Auto modes)

Enhanced Display Modes (Persist, Vectors, Wide)

Analog Channel scaling customizations

n/a

n/a

n/a

Importing of ULD data files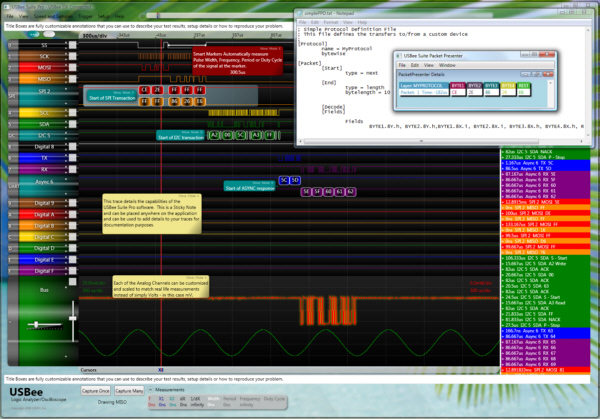 USBee Suite Pro PacketPresenter and Smart Markers in Action (click image for detail)

USBee Suite Pro Smart Search highlights the sections of your trace matching your areas of interest
(click image for detail)
Beautifully Powerful
Fast and Detailed Waveform Viewing

The USBee Suite lets you capture a huge amount of data. Go exactly to the section of that data you want using the Quick Zoom with your mouse scroll wheel, or use the Overview bar to rip through your millions of samples or hone in on a specific section.

Measure It

Should that pulse be 10ms? Measure it using our super easy edge snapping timing cursors. Better yet, you can use our Insta-Measure feature to instantly calculate the width, period, frequency and duty cycle of the waveform under the cursor.

See the information you want FAST!

Setup of the USBee Suite is fast! Capturing the data you need to solve your problems is just as fast. You can see your design in action with just one click thanks to the easy to use trigger settings, color coded signals and automatic buffer and sample rate settings.

Data Acquisition over USB 2.0

Capture up to 24 million bytes per second directly into your PC's RAM, for sample buffer depths of hundreds of millions of samples.

Superior Quality Design - Professional Results

The USBee Suite takes full advantage of the power of each of the various USBee Test Pods. Each USBee comes with the best color coded highly flexible test leads, the best test clips and our signature small and sleek design that can fit right in your pocket. We are proud to say the entire USBee product line is designed and manufactured in the USA!
Fully configurable Look and Feel
View your signals like you like them. Want to add decoded bus traffic to the waveforms? Done! Want to delete waves from the screen? Done! Want to reorder waveforms for easier readability? Done! Want to resize the screen for easier reading or more data per screen? Done!
And you like Magenta? Well you can change cursor colors to suite your desires. Waveform backgrounds can also be customized, and you can even give the entire application that cool Glassy look that Windows 7 and Vista has made so popular. Then again, if you like simple, white and black are also available. It's good that white ink cartridges are free!

USBee Suite showing SPI, I2C and Async decoding
Serial Bus Analysis
USBee Suite has decoding support for your favorite serial busses such as I2C, SPI and Async. Bus traffic is decoded in-line with the waveforms and can be displayed on top of, underneath, or instead of the voltage versus time waveform. Just place the cursor over the decoded traffic and get a see-through image that shows you the wiggles that made that byte!

I2C Transaction

USB Transaction

Synchronous Serial Transaction

PS2 Transaction

Parallel Bus Decode

I2S Decode

CAN Transaction

NEC IR Remote Control Transaction (decoded using the Custom Decoder - see the source code for how to do this and create your own protocols!)
Serial Bus Setup is simple and straightforward - simply choose the signals for the bus and set how the bus is configured. Not sure how your design works? Not a problem. You can try different configuration settings and the busses will be decoded using those settings on the fly so you can get it right!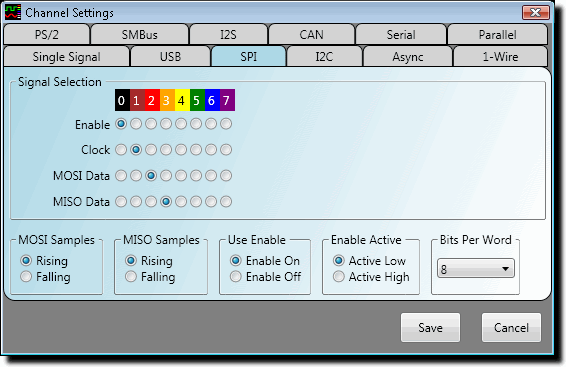 (USBee SX options shown above)
Custom Protocol Decoder Development Kit
Is your protocol custom or not currently supported by the USBee Suite? No problem. You can create your own protocol decoders using the super-simple USBee Suite Custom Decoder source code and Microsoft's FREE Visual Studio 2008. Just take a look at the USBee Suite User's Manual to see how easy it really is.
Do you have a custom decoder that you think others would appreciate? Send it to us and we will post it on our downloads page for all to enjoy!
Data Storage

Save your entire data capture to file quickly using the USBee Suite data format to be read back in later for viewing. Or you can export your captured data to data files that you can work with. Want to import your waveform data into Excel? No problem! Just export it as a comma separated file and it imports directly without modification. Need the data in raw binary format? We've got that too!

Scalability

The USBee Suite operates on our full line of USBee Test Pods, from the 4 channel BusBee and the affordable USBee SX to the USBee DX powerhouse. So if you need more channels or analog capability, you can count on the ease of use and power of the USBee Suite no matter what tool you are using!

Try it for free!

Take the Free USBee Suite Standard for a spin. Download the software for free - it runs in demo mode if you're not lucky enough to have a USBee Pod yet.

Upgrade to USBee Suite Pro

Get the power and ease of our state-of-the-art debug tools at a price you can afford. Upgrade to the USBee Suite Pro.

Buy a USBee Pod

Let us Know!

We are constantly updating the USBee Suite software and would love to hear your wishlist items. Just let us know and we will try to include it in the next release. Email us here!