Log In
Follow us on Facebook for all the latest news, updates and promotions
Credit Cards Accepted
iMSO-204L - Oscilloscope with
Lightning Adaptor


iMSO-204 - Oscilloscope with
30 Pin Connector
| | |
| --- | --- |
| iMSO-204L | iMSO-204 |
| Buy the iMSO-204L Online | Buy the iMSO-204 Online |

iMSO-204 and iMSO-204L are mixed signal oscilloscopes designed specifically for the iPhone, iPad, iPod.

2 Analog 4 Digital Channels
50 MSPS Sample Rate
5 MHz Bandwidth
200ns/div-10s/div
Full Datasheet

iMSO-204L iMSO-204
So how does this touch interface compare to an oscilloscope with knobs? Joe Wolin, EEWeb Co-Founder, states, "We actually think the experience is better! The touch-interface of the iPad represents a viable alternative to traditional knob-based oscilloscopes. The software on this device is outstanding… " Want to test drive it yourself? Download the free demo today and see why this is the preferred scope for the next generation of inventors.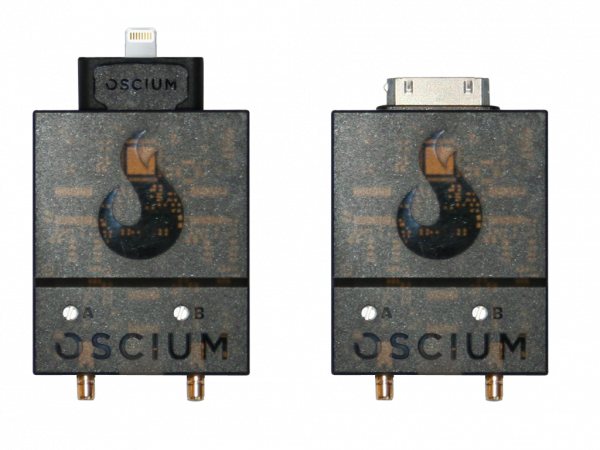 Lightning & 30-pin Compatibility
iMSO-204 (30-pin) is compatible with: iPhone 4S, iPhone 4, iPhone 3GS, iPad 3, iPad 2, iPad, iPod touch [3rd (32 GB only) and 4th generation]. iMSO-204L (Lightning) is compatible with: iPhone 5C, iPhone 5S, iPhone 5, iPad mini, iPad Air, iPad 4, iPod touch [5th generation]. If you have an iOS device from both lists above, you will need to purchase iMSO-204 and a lightning adapter.
screenshot-iMSO2.png
Pinch to zoom into a waveform the same way you do on a picture. Change the analog trigger position with a simple swipe across the screen. On-the-go engineers save their setup once and this oscilloscope remembers who you are. Oscium's software is intuitive, which means you can spend more time debugging than fumbling with an oscilloscope interface. Focus on solving problems, not your setup. Both iMSO-204 and iMSO-204L use the same app. It is called iMSO2. It's free to download so
try it out today
.
iMSO-204-entire-product-main.png
What's Included In The Box?
iMSO-204 Mixed Signal Oscilloscope Hardware(or iMSO-204L)
Two 1x/10x Analog Probes
Screwdriver
Four Analog tip covers
Logic Harness (4 Digital 1 Ground)
SMD Grabbers (5 pieces)