Log In
Shock Transportation Data Logger MSR175
NEW RELEASE!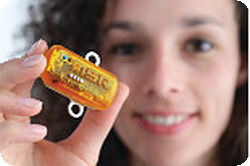 The two 3-axis acceleration sensors integrated in the MSR175 have working ranges of ±15 g and ±100 g. They record shocks and jolts at a measurement frequency of up to 5,000 measurements per second. The installed memory of the logger is capable of storing over 2 million measured values, which is sufficient for more than 1,000 shocks. In addition, the MSR175 data logger measures and records temperature profiles from -20° to 65 °C. Additionally, a second type variant of this data logger is available with internal humidity, pressure and light sensors.
Priced at under $500 USD.
(MOQ is for 10 pieces)
Follow us on Facebook for all the latest news, updates and promotions
Credit Cards Accepted
Analog Input Module Voltage Divider Circuitry

This circuitry is embedded in the Aluminum Housing of the 800 mAh Battery Loggers

in 260 mAH loggers, this circuitry is enclosed in the Analog Terminal Block attached to the loggers.

Download PDF Version