Interface 2015 - Portland
ITWatchdogs Exhibit
On Tuesday, March 17, 2015, over 1500 business and technology professionals will converge at the Oregon Convention Center for the annual Interface Portland event. Great show! Thanks to those who stopped at the booth.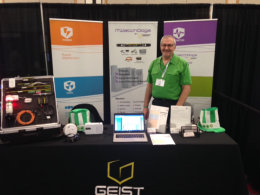 ITWatchdogs manufactures environmental monitors that enable administrators to monitor server room conditions via a web browser with live video feed and current measurements of temperature, humidity, air flow, light, sound, power, water leakage, door positions and much more, showing current and historical data through HTTP and providing SNMP and Email alarming
when specified thresholds are
exceeded.
To learn more visit itwatchdogs page