Press Release - May 2015
1. 3-axis MSR165 shock data logger now with a working range of either ±15 g or ±200 g
Whilst it was previously possible to monitor shocks up to ±15 g, the user now has a working range of up to ±200 g. This extended working range is beneficial when it comes to recording applications where very large forces occur suddenly, for instance in the field of transportation monitoring of delicate goods, aerospace, as well as drop and impact tests in the industry. The 3-axis acceleration sensor starts recording data either when an acceleration threshold is exceeded or at a set time. 32 measured values are recorded even before the shock event takes place, in order to ensure that the history of the shock can be examined during a g-analysis. As a result, the user not only knows that a shock has occurred but also identifies the exact development of the shock.
Price for the ±200 g sensor will be 10 % higher than the price of the ±15 g sensor.

2. Additional long-term power supply
In order to satisfy the demand for a longer recording period, MSR Electronic provides two new options for the MSR165:

2.1. Long-life batteries
For a longer recording period of up to five years, which is requested for example by exporters in the machine and plant sectors to enable long term monitoring of transportation, storage and operating conditions, the MSR165 data logger can be equipped with replaceable batteries (3.6 V, 2 x 7700 mAh, Li-SOCl2). The batteries are stored in a waterproof, cast aluminium case.
The surcharge for this option, item no. N10024, is $321.00
2.2. MSR Power Pack

Another option of increasing the recording period of the MSR165 by up to six times is to use the MSR Power Pack . The MSR Power Pack is an autonomous charging station with a capacity of 5000 mAh that can be used to recharge the internal battery of the data logger during operation. The charging interval of the unit can be adjusted individually: 24 hours, 7 days or 30 days.
The surcharge for this option, item no. N10023, is $321.00

The new options will be available from May 19, 2014.
---
Press Release - March 2015
A PicoScope with eight high-resolution channels - 4824
The new 8-channel PC oscilloscope from Pico Technology offers the perfect solution for advanced multi-channel applications. Housed in a compact and rugged enclosure, the PicoScope 4824 features 12-bit resolution, SuperSpeed USB 3.0 interface, and an integrated 14-bit arbitrary waveform generator (AWG).
Managing Director Alan Tong explains "The new 8-channel PicoScope has the same small footprint as Pico's existing 2 and 4-channel models, and can replace the
cumbersome full-sized scope on your workbench". Like all PicoScopes, the 4824 is small, light, and highly portable; despite its high specification it is entirely powered via USB and does not require a bulky separate adaptor.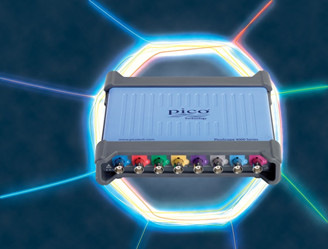 With 8 high-precision, low-noise inputs, a bandwidth of 20 MHz and sensitivity from 2 mV/div, this scope is well suited to a broad range of applications such as power supply start sequencing, decode and time-aligned display of related I/O, 7‑channel audio, 3‑phase voltage and current measurements, and multi-phase motor drives. The maximum sampling rate of 80 MS/s, deep buffer memory of 256 MS and data streaming enable the scope to capture detailed timing data over prolonged periods.

More........